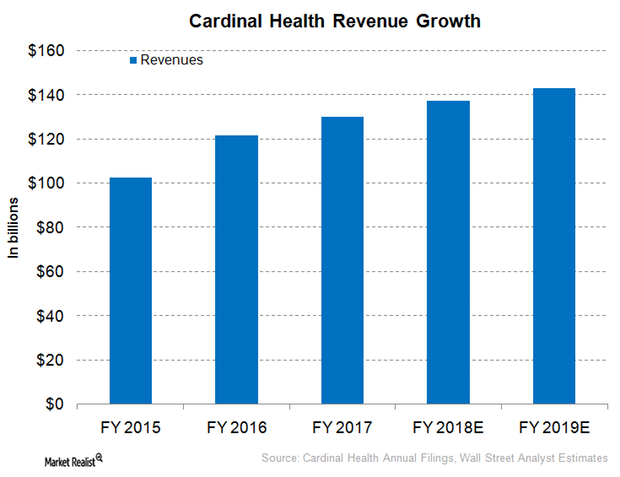 Cardinal Health Expected to Report Modest Revenue Growth
Modest revenue growth
For fiscal 2018, Cardinal Health (CAH) has projected mid-single-digit revenue growth on a YoY (year-over-year) basis. That performance will be driven by the company's high customer retention rates as well as robust line item fill rates and service levels. Cardinal Health has also expanded its network of the pharmacy service administrative organization to 5,600 members. The company currently offers administrative services such as negotiating with payers for reimbursement, filing claims, help-desk services, purchasing drugs from wholesalers, medication management, and inventory management to pharmacies.
Article continues below advertisement
On December 10, 2013, Cardinal Health and CVS Caremark (CVS) entered into a joint venture agreement to create the largest generic drug sourcing entity in the United States, called Red Oak Sourcing. That entity, in collaboration with generic drug manufacturers, has been working on implementing innovative purchasing strategies and improving the generic drug supply chain in the United States. Cardinal Health and CVS Caremark are also working together to source OTC (over-the-counter) and consumer products, although the scale is significantly smaller than that of its generic drug sourcing program.
Cardinal Health makes up about 0.58% of the Vanguard Dividend Appreciation ETF's (VIG) total portfolio holdings.
Analyst projections
Wall Street analysts have projected Cardinal Health's revenues for fiscal 2018 to be $137.0 billion, which is a YoY (year-over-year) rise of 5.4%. The all-around growth of the company's Specialty Solutions group across therapeutic areas, physicians and physician practices, and customers suffering from varying disease acuity is expected to play a major role in Cardinal Health's financial performance in fiscal 2018.
Peers AmerisourceBergen (ABC) and Express Scripts (ESRX) are expected to report revenues of $154.1 billion and $101.3 billion, respectively, in 2017. McKesson (MCK) is expected to report revenues of $205.7 billion in fiscal 2018.
In the next part, we'll look at margin growth trends for Cardinal Health.