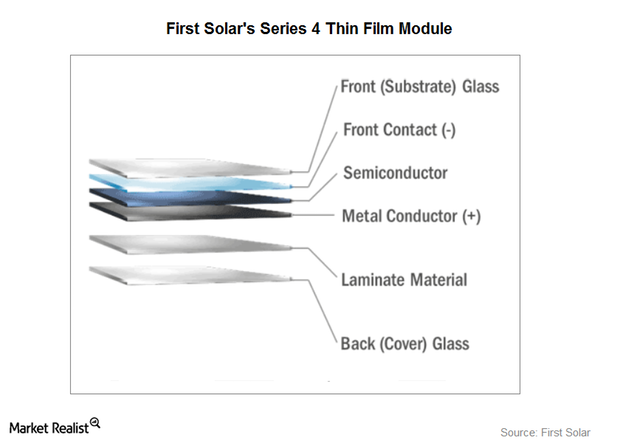 Behind First Solar's Operations
Operating segments
Previously, we looked at First Solar's (FSLR) history. The photovoltaic module manufacturer operates two business segments: Components and Systems.
Article continues below advertisement
Article continues below advertisement
The Components segment
First Solar is a manufacturer of solar (TAN) photovoltaic (or PV) modules. First Solar also designs and sells these modules. They manufacture thin-film PVs, in which the semiconductor material used is cadmium telluride (or CdTe). The CdTe modules transform sunlight into electricity. First Solar uses only 1%–2% semiconductor material in its PVs, unlike conventional PVs, thereby giving them a competitive edge in efficiency.
First Solar's manufacturing facilities are located in Perrysburg, Ohio, and Kulim, Malaysia. First Solar currently manufactures Series 4 CdTe PV modules. In 2018, it will start Series 6 module technology production, and it expects to ramp down Series 4 production eventually. The company previously had a crystalline silicon PV production unit, which it shut down in 2016 to focus on CdTe thin-film technology.
The Systems segment
The company's second segment is the Systems segment, under which it provides a range of solar power plant design, development, construction, project management, and financing services. With these services, the segment distinguishes First Solar from PV manufacturers Yingli Solar (YGE), JA Solar (JASO), and Trina Solar (TSL). This segment uses modules manufactured by the Components segment to build solar power systems for utilities, independent power generators, and business customers.
The company owns and operates solar power plants in the United States, India, and Chile. To date, First Solar has sold more than 17 gigawatts of solar panels. SunEdison (SUNEQ) designs and develops solar power plants.