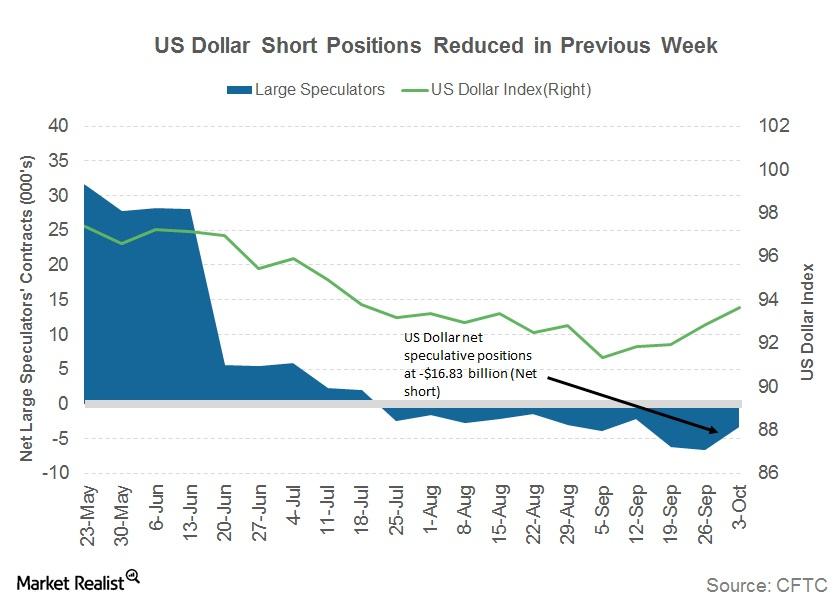 Are Investors Positioning for a US Dollar Rally?
The surprise rise of the US dollar
The US Dollar Index (UUP) closed at 93.64 last week, a gain of 0.82% and the fourth consecutive weekly rise. The positive close was a surprise since the dollar didn't react to a loss of 33,000 jobs in September. The markets were expecting 90,000 jobs to be added in September, factoring in the impact of Hurricanes Harvey and Irma. A key reason for the rally in the US dollar was the stronger-than-expected manufacturing and non-manufacturing PMI (Purchasing Managers' Index) reports at the beginning of the previous week.
Article continues below advertisement
Speculators turned bullish for the first time in seven weeks
According to the latest Commitment of Traders report released on October 6, 2017, by the CFTC (Chicago Futures Trading Commission), large speculators and traders turned bullish for the first time in seven weeks. The hawkish tone of the Fed and the possibility of tax cuts have added to the positive sentiment in the US dollar.
According to Reuters, US dollar (USDU) net short positions decreased to -$16.8 billion compared to -$17.4 billion in the previous week. That amount is a combination of US dollar contracts against the combined contracts of the euro (FXE), the British pound (FXB), the Japanese yen (FXY), the Australian dollar (FXA), the Canadian dollar (FXC), and the Swiss franc.
Outlook for the US dollar
This week, key economic data with respect to the US dollar are US inflation and retail sales figures due to be reported on Friday, October 13, 2017. A few Fed members are expected to speak this week, and their views on the recent jobs report and a possible December rate hike could impact the performance of the US dollar.
In the next part of this series, we'll look at the performance of the US bond markets in the previous week and how bond yields could move this week.