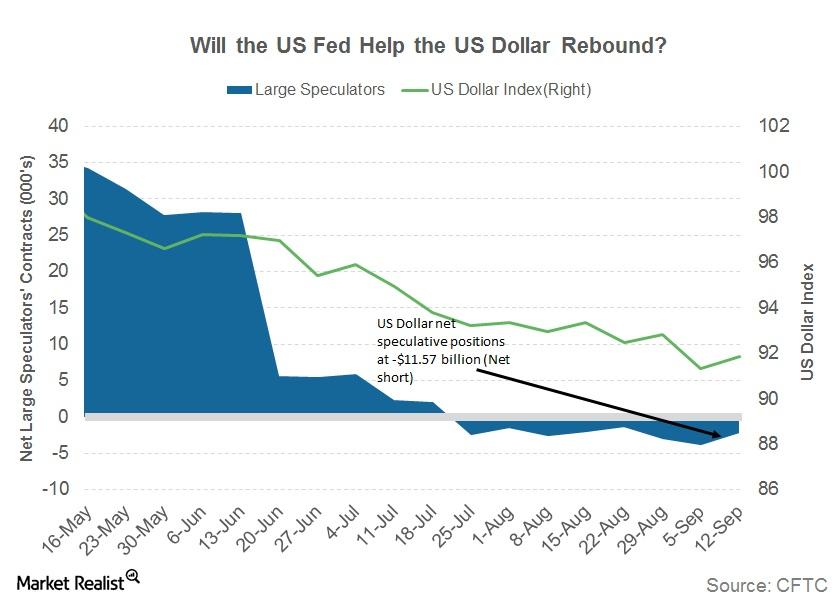 Why the US Dollar Saw a Sharp Rebound
US dollar rebounded from two-year low
The US Dollar Index (UUP) witnessed a sharp recovery last week, rebounding from a two-year low of 91.0. The US Dollar Index closed at 91.9 for the week ending September 15, posting gains of 0.58%. The index rallied after the news about tax reforms hit the markets and rallied further after the surprise increase in the US headline inflation was reported. These gains, however, were trimmed before the weekend as the British pound rallied after the Bank of England signaled rate hikes in the near future.
Article continues below advertisement
Article continues below advertisement
Speculators add to short positions on US dollar
As per the latest Commitment of Traders (or COT) report released on September 15 by the Chicago Futures Trading Commission (or CFTC), large speculators and traders added to their bearish positions on the US dollar last week. The CFTC reported data through Tuesday, so there could have been some short covering after the tax reform announcement and the surprising uptick in US inflation.
As per Reuters' calculations, the net US dollar (USDU) net short positions rose to -$10.9 billion as compared to -$11.6 billion in the previous week. This amount is a combination of US dollar contracts against the combined contracts of the euro (FXE), British pound (FXB), Japanese yen (FXY), Australian dollar (FXA), Canadian dollar (FXC), and the Swiss franc.
Outlook for the US dollar
This week, the FOMC statement will likely be the key driver for the US dollar. Markets are prepared for the balance sheet trimming announcement, so the focus will likely be on rate hike projections. If the statement indicates that the Fed could implement another rate hike this year, there could be a knee-jerk reaction in the currency market, lifting the US dollar higher.
In the next part of this series, we'll analyze why US bond yields rebounded in the previous week and how they could react to the FOMC statement this week.