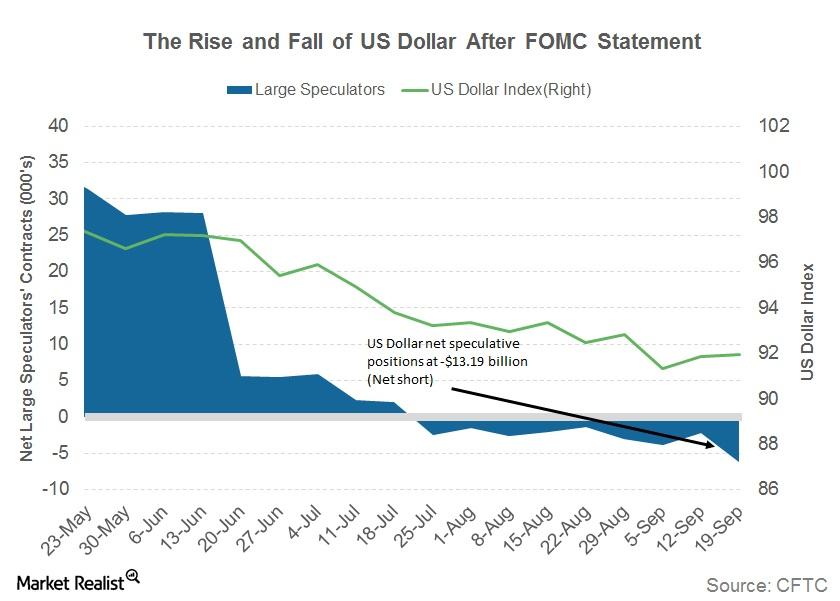 Why the US Dollar Failed to Rally despite Increased Rate Hike Odds
US dollar gains were limited
The US Dollar Index (UUP) failed to rally aggressively despite a hawkish surprise from the US Fed. The US Dollar Index closed at 92.0 for the week ending September 22, posting a weekly gain of 0.12%, which isn't too far away from the two-year low that we saw in the beginning of September, and the index looks set for a seventh consecutive monthly loss.
The reasons for such a tepid performance from the US dollar could be the mixed economic data in the previous week, and investors would want to see further proof in economic data before giving into the Fed's hawkish outlook.
Article continues below advertisement
Speculators increase negative bets on the US dollar
As per the latest Commitment of Traders (or COT) report released on September 22 by the Chicago Futures Trading Commission (or CFTC), large speculators and traders added to their bearish positions on the US dollar last week. These positions were as of Tuesday, September 19 before the Fed's statement. But given the Dollar Index, it could be that we don't see any major position changes this week either.
As per Reuters' calculations, the US dollar (USDU) net short positions rose to -$13.2 billion as compared to -$10.9 billion in the previous week. This amount is a combination of the US dollar's contracts against the combined contracts of the euro (FXE), the British pound (FXB), the Japanese yen (FXY), the Australian dollar (FXA), the Canadian dollar (FXC), and the Swiss franc.
Outlook for the US dollar
This week, markets are likely to react to the US economic data and to the repercussions of a coalition government in Germany. There is always a tail risk of geopolitical tensions arising out of North Korea, but markets don't seem to be pricing in any of that risk at this point.
In the next part of this series, we'll analyze why US bond yields bounced after the Hawkish September FOMC statement.