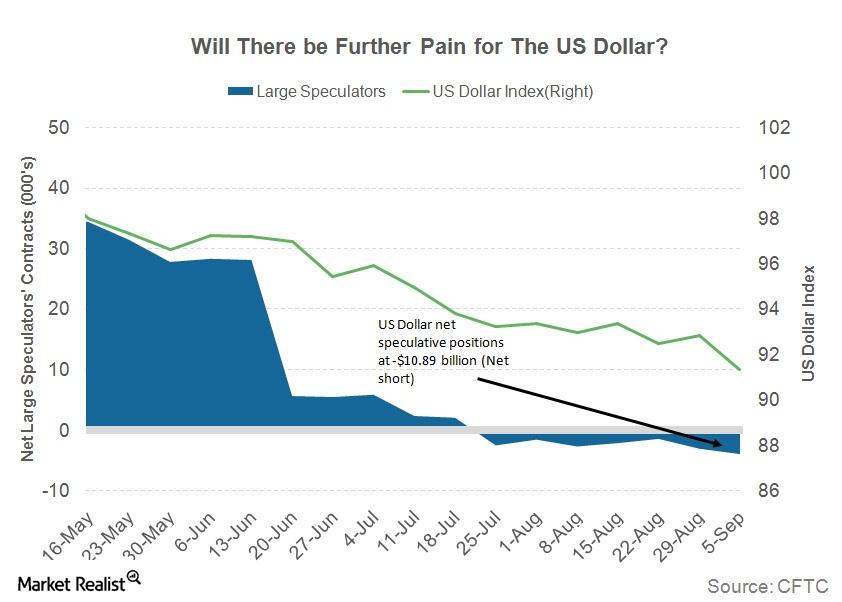 Why the US Dollar Could Be Poised for Further Losses
US dollar fell to 2-year low
The US Dollar Index (UUP) failed to hold onto its gains from the previous week as investors were convinced that the Fed most likely wouldn't make any changes to its monetary policy this year. The impact of Hurricanes Harvey and Irma will likely deter the Fed from further tightening in the near term. Hawkish comments from the ECB (European Central Bank) also added to the US dollar's troubles last week.
Article continues below advertisement
The vacuum being created by the Fed could also be influencing the market's outlook that the interest rate could remain lower at least until 2018. The Fed's vice chair Stanley Fisher has announced his intention to resign in October 2017. He is one of the Fed's key decision-makers, and his departure will leave four empty seats, giving the Trump administration the chance to reshape the Fed.
Speculators add to short positions on the US dollar
According to the latest COT (Commitment of Traders) report released on September 8, 2017, by the CFTC (Chicago Futures Trading Commission), large speculators and traders added to their bearish positions on the US dollar last week.
According to Reuters calculations, net US dollar (USDU) net short positions rose to -$10.9 billion compared to -$10.3 billion in the previous week. That amount is a combination of US dollar contracts against the combined contracts of the euro (FXE), the British pound (FXB), the Japanese yen (FXY), the Australian dollar (FXA), the Canadian dollar (FXC), and the Swiss franc.
Is there further pain for the US dollar?
The current trend of the US dollar's weakness could continue as investors now expect the Fed to leave interest unchanged, even at its December 2017 meeting. The impact of Hurricane Harvey and Hurricane Irma could have a negative impact on economic performance, leaving little room for the Fed to act. The uncertainty of the US Fed succession has also weighed on the US dollar and is likely to limit any sharp gains in the near term. US consumer prices and retail sales that will be reported this week and their impact on the US dollar may be limited.
In the next part of this series, we'll analyze why US bond yields continued to trend lower.