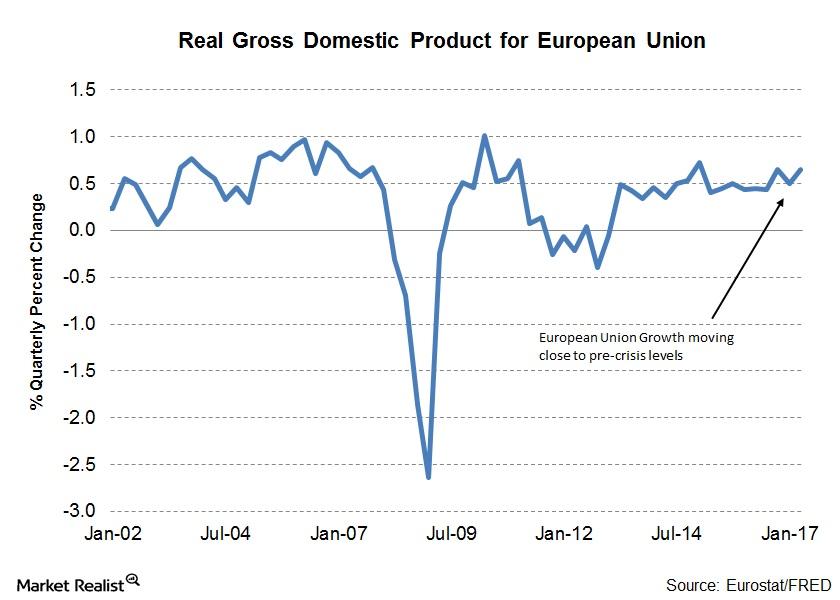 Why Strong European GDP Growth Momentum Gives Confidence to the ECB
European GDP outlook remains positive
In its September 7 meeting, the ECB (European Central Bank) governing council sounded optimistic about the strong growth momentum in the EU. The macroeconomic projections for European real GDP from the September ECB meeting were better than the June meeting projections. According to the the statement, the ECB forecasts that European annual real GDP will rise 2.2% this year, followed by 1.8% in 2018, and 1.7% in 2019.
If we break down the 2Q17 growth of 0.6% and calculate a YoY (year-over-year) growth of 2.3%, the key contributor to Eurozone (VGK) growth appears to have been the increase in household spending, fixed investments, and exports.
Article continues below advertisement
Stronger growth is a prerequisite for higher inflation
Why does the ECB remain confident that lagging inflation will eventually inch toward the goal of 2%? The ECB likely has this confidence based on the strong economic performance in the Eurozone. If economic performance continues to improve, there will likely be a higher possibility of job and wage growth, which would ultimately lead to wage growth and increased spending, and the result would be higher demand for products and higher inflation.
The ECB remains optimistic as risks remain balanced
Meanwhile, political and economic uncertainties like the French (EWQ) elections and the Italian (EWI) banking crisis have now subsided, and risks to EU economies appear to be balance. Except for the strong appreciation in the euro (FXE), the growth outlook continues to be positive.
The ECB is likely to keep supporting this view, and in the October meeting, it may talk about tapering the EU's bond buying program.