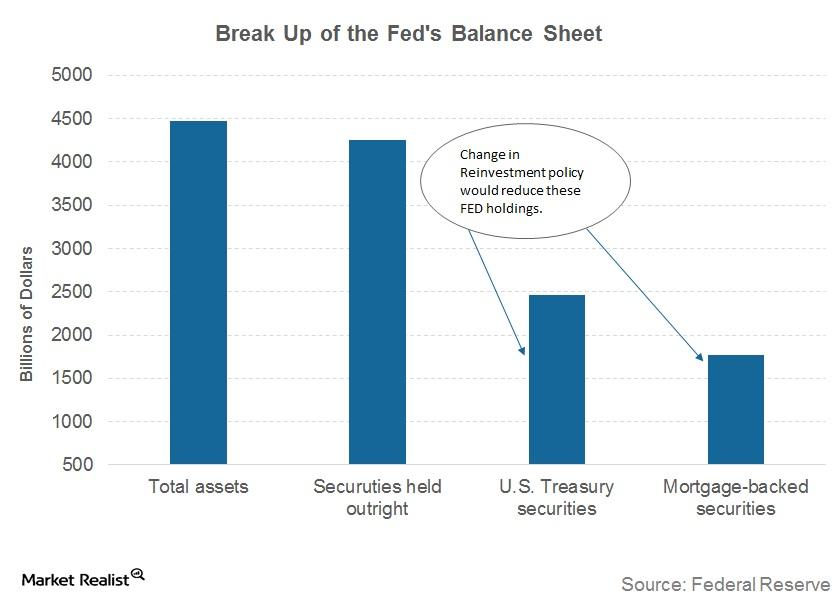 Why Is FOMC Starting to Unwind Its Balance Sheet without a Target?
Balance sheet unwinding to begin in October
In the September 20 meeting, the FOMC (US Federal Open Market Committee) finally announced the start date of its balance sheet unwinding program—something that markets have expected—and so there was a minimal market reaction to the announcement.
But the Fed has amassed a huge number of fixed income (BND) securities as part of its QE (quantitative easing) programs. These QE programs were intended to lift the US economy from the great recession of 2007–2008. The Fed balance sheet swelled from $147 billion in 2008 to its current size of $4.4 trillion as part of these exercises, and now that the economy is getting back to normal, the Fed wants to slowly offload these securities.
Article continues below advertisement
The Fed's plan for unwinding its huge balance sheet
There were no changes to the limits proposed by the FOMC at its June meeting. Beginning in October, the Fed will replace some of the maturing securities each month. For US Treasuries (SHY) (IEI), the Fed expects to let $6 billion roll off monthly from its balance sheet and increase this amount by $6 billion every quarter until it reaches $30 billion monthly reductions per month.
For agency debt (MINT) and mortgage-backed securities (MBB), this cap would be $4 billion per month, rising $4 billion every quarter until a cap of $20 billion per month is reached.
There was no target level mentioned
Although the Fed has signaled the balance sheet unwinding program, there was no mention of the target balance sheet size, nor did the Fed mention a time limit for this program. The Fed could have intentionally left out this information, giving it some flexibility if necessary.
In the next part, we'll discuss the Fed's latest view of inflation and unemployment.