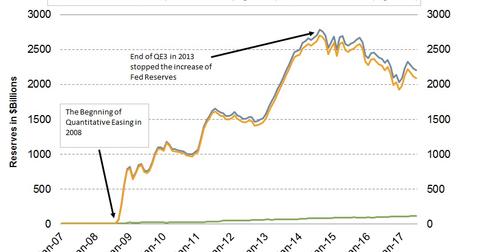 Why FOMC's John Williams Sees No Impact of Balance Sheet Unwinding on Markets
By Ricky Cove

Updated
Balance sheet unwinding to have limited impact
San Francisco Federal Reserve President John C. Williams, in a recent press conference in Zurich, Switzerland, said that the market reaction to the Fed's balance sheet unwinding program is likely to be muted. Williams said that markets have accepted the fact that the balance sheet will have to be reduced to bring the economy back to normalcy.
In the long run, however, Williams said it would be difficult to predict how markets would react to the balance sheet unwinding program, as it would take years for the balance sheet to come back to normal levels.
Article continues below advertisement
About the US balance sheet
In the September FOMC (Federal Open Market Committee) meeting, the Fed had announced that the process of offloading its massive $4.5-trillion balance sheet would begin in October.
The Fed has amassed a huge number of fixed income (BND) securities, including US Treasuries (GOVT), agency debt (MINT), and mortgage-backed securities (MBB), as part of its QE (quantitative easing) programs.
Normalization is the new norm at the Fed
Williams said that the path to normalization needs to continue and stressed that rates could increase one more time this year and another three times in 2018—if the US economy continues to improve and inflation (SCHP) remains on course to reach the 2% target level.
There was no new insight on the US outlook from Williams, but his views that the impact of balance sheet unwinding could change in the long run is something worth noting. The Fed has communicated the monthly offloading targets could increase to $50 billion per month by 2019 and depend on the prevailing conditions at that point in time, and so there could be some impact on markets.