Understanding Arch Coal's Financial Position
Arch Coal's leverage On June 30, 2017, the book value of Arch Coal's (ARCH) long-term debt was about $315.6 million, of which ~$297 million is due for payment in 2024. Arch Coal's leverage, which is its net debt divided by EBITDA (earnings before interest, tax, depreciation, and amortization), has increased since the acquisition of International […]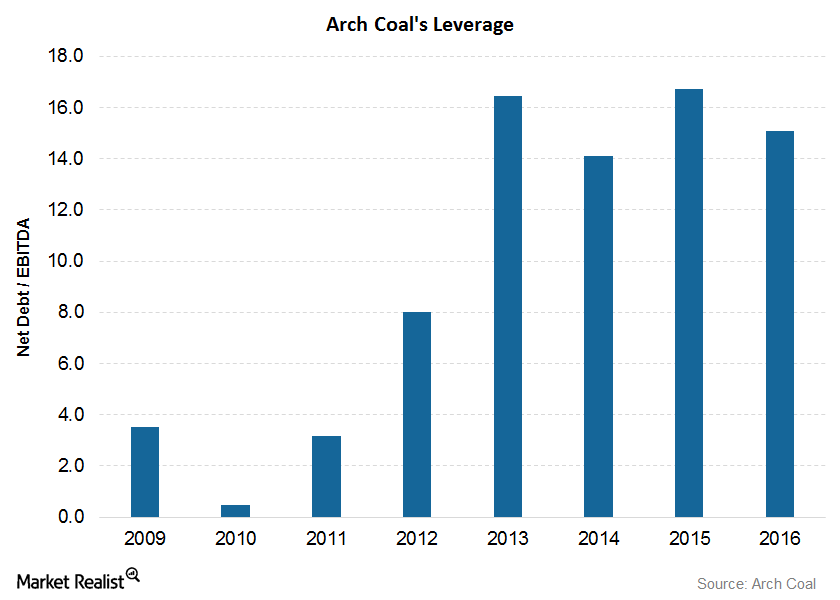 Arch Coal's leverage
On June 30, 2017, the book value of Arch Coal's (ARCH) long-term debt was about $315.6 million, of which ~$297 million is due for payment in 2024.
Arch Coal's leverage, which is its net debt divided by EBITDA (earnings before interest, tax, depreciation, and amortization), has increased since the acquisition of International Coal Group on June 15, 2011.
The steep rise in coal prices between 2007 and 2012 prompted Arch Coal to opt for high leverage inorganic growth. ARCH's net-debt-to-EBITDA for 2016 was ~15.1x, while the industry median was ~3.3x.
On June 30, 2017, ARCH's LTM total debt-to-adjusted EBITDA was 0.97x—much lower than the 2.8x average for coal (KOL) peers Westmoreland Coal (WLB), Cloud Peak Energy (CLD), Alliance Resource Partners (ARLP), Peabody Energy (BTU), and CNX Coal Resources (CNXC).
Article continues below advertisement
Article continues below advertisement
Contractual interest expense during bankruptcy
After filing for bankruptcy, Arch Coal discontinued recording interest expense on unsecured debt, which was classified as a liability subject to compromise. Actual interest expense recorded for the period January 1 through October 1, 2016, subsequent to the filing date was $135.9 million. Contractual interest during this time was $300.9 million.
On June 30, 2017, ARCH had an interest coverage ratio (the number of times interest expenses can be paid with earnings) of ~7.1x for 2Q17, compared to Cloud Peak Energy's (CLD) 0.41x, CNX Coal Resources' (CNXC) ~5.8x, and CONSOL Energy's (CNX) ~6.6x. A high interest coverage ratio is a good indicator of a company's ability to pay off debt on a regular basis.
Next, we'll assess the key risks in Arch Coal's business.