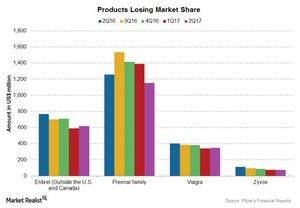 These Pfizer's Products Are Now Losing Market Share
PFE products losing market share
Pfizer's (PFE) Essential Health segment includes products that are reporting lower sales due to competition or other factors. These products have had a negative impact on Pfizer's overall growth.
The Essential Health segment reported a fall in overall revenues in 2Q17, driven by the loss of exclusivity of Celebrex and Zyvox.
Article continues below advertisement
Negative growth products
BeneFIX, a rare disease drug, reported sales of $153 million in 2Q17, or 15% lower YoY (year-over-year) than its sales of $183 million during 2Q17. This fall in sales was due to lower demand.
BMP2 reported sales of $57 million in 2Q17, or 6% lower than its sales of $61 million in 2Q16, while Enbrel reported sales of $617 million in 2Q17, or 17% lower YoY at constant exchange rates, compared with its sales of $766 million in 2Q16.
EpiPen, a key product from Mylan (MYL), contains a drug manufactured by Pfizer. Pfizer reported related sales of $90 million in 2Q17—a 3% YoY fall.
Other negative growth products
Lipitor reported sales of $445 million in 2Q17, or 3% lower than its sales of $461 million in 2Q16. This fall was driven by lower sales in US markets and the negative impact of foreign exchange, partially offset by a rise in sales in international markets.
Inylta, a drug for advanced renal cell carcinoma, reported sales of $88 million during 2Q17, a 17% decline in revenues, compared with $108 million during 2Q16.
The Prevnar family reported sales of ~$1.2 billion in 2Q17, or 7% lower than its ~$1.3 billion in 2Q16, due to lower sales of Prevnar 13 in US markets. Viagra reported sales of $349 million in 2Q17, which was 12% lower YoY, compared with $401 million in 2Q16, following patent expiry and pricing pressures due to competition.
Zyvox, an antibiotic, reported sales of $75 million in 2Q17, which represents a 32% fall in sales, compared with $114 million in 2Q16, driven by patent expiry and competition since 2Q15.
Notably, the First Trust NASDAQ Pharmaceuticals ETF (FTXH) has 8.3% in Pfizer (PFE). FTXH also has 9.0% in Abbott Laboratories (ABT), 4.1% in Eli Lilly (LLY), and 4.6% in Bristol-Myers Squibb (BMY).