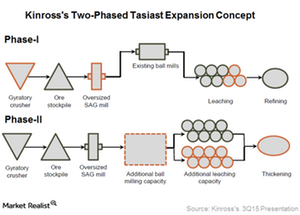 Why the Tasiast Expansion Is Key to Kinross Gold's Potential
Tasiast acquisition
Kinross Gold (KGC) acquired the Tasiast Mine from Red Back Mining in 2010. The mine is located in Mauritania in West Africa. While the company wrote down a significant part of the acquisition value of this asset, mill expansion was sought as having the potential to transform Tasiast into Kinross Gold's largest mine, with some of the lowest costs in its portfolio.
Article continues below advertisement
Tasiast expansion
After conducting a feasibility study and a comprehensive review in February 2015, Kinross Gold decided not go ahead with the Tasiast expansion. Kinross Gold cited the weak gold price environment and preserving its balance sheet as the primary reasons for this decision.
On March 30, 2016, the company updated the technical report for the Tasiast Mine and announced that it would proceed with the Tasiast Expansion, but in two phases. The phased approach was adopted to spread the risks and costs.
Tasiast Phase One progressing according to schedule
The Tasiast Phase One expansion is expected to increase mill throughput capacity from 8,000 tons per day to 12,000 tons per day. It would also reduce operating costs significantly. The company expects to reduce its AISC (all-in sustaining costs) to ~$760 per ounce.
During its 2Q17 earnings call, the company mentioned that Phase One is progressing on time and on budget. It is expected to start commercial production in 2Q18. During Kinross Gold's conference call on September 18, 2017, its CEO, Paul Rollinson, noted that the construction on the project is two-thirds complete.
Kinross Gold's peers (RING) Barrick Gold (ABX), Goldcorp (GG), Agnico-Eagle Mines (AEM), and Newmont Mining (NEM) have better project pipelines than Kinross Gold, as some of their projects are expected to come online in the near term.