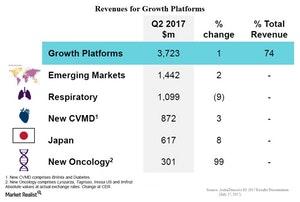 Performance of AstraZeneca's Growth Platforms in 2Q17
The growth platforms
AstraZeneca (AZN) includes several segments and regions as part of its growth platforms. These segments and regions include the products from the Respiratory segment; New Cardiovascular and Metabolic Diseases (or CVMD) products including Brilinta and diabetes products; New Oncology products including Iressa US, Lynparza, Tagrisso, and Imfinzi; and the regional sales from Emerging Markets and Japan.
The growth platforms contributed more than 73.7% of total revenues for AstraZeneca in 2Q17. To avoid duplication on a product and regional basis, the total product sales are adjusted for the growth platforms in this article.
Article continues below advertisement
Performance of growth platforms
The performance of each of the category in the growth platforms during 2Q17 follow:
Emerging markets such as China, Brazil, India, Russia, Mexico, and Turkey reported revenues of ~$1.4 billion during 2Q17, representing 2% growth at constant exchange rates from 2Q16. The growth of emerging markets was driven by increased sales of Crestor, Iressa, Seloken, Pulmicort, Brilinta, and Farxiga.
The Respiratory segment reported revenues of $1.1 billion during 2Q17, a 9% decline at constant exchange rates and a 1% negative impact of foreign exchange. The decline in revenues was driven by lower sales of Symbicort, Pulmicort, Tudorza, Duaklir, and others, partially offset by strong sales of Daliresp.
The new CVMD products in the growth platform include the cardiovascular drug Brilinta, as well as diabetes drugs such as Bydureon, Byetta, Onglyza, and Farxiga. At constant exchange rates, the new CVMD products reported revenue growth of 3% to $872 million during 2Q17.
The revenues from Japan rose 8% at constant exchange rates to $617 million during 2Q17.
The new Oncology products such as Tagrisso, Lynparza, US sales of Iressa, and Imfinzi, reported revenues of $301 million for 2Q17, reflecting growth of ~99% at constant exchange rates compared to 2Q16 revenues.
For broad-based industry exposure, investors can consider the VanEck Vectors Pharmaceutical ETF (PPH), which holds 4.4% of its total assets in AstraZeneca Plc (AZN). PPH also holds 4.7% in Eli Lilly & Co. (LLY), 5.2% in Bristol-Myers Squibb (BMY), and 2.6% in Teva Pharmaceuticals (TEVA).