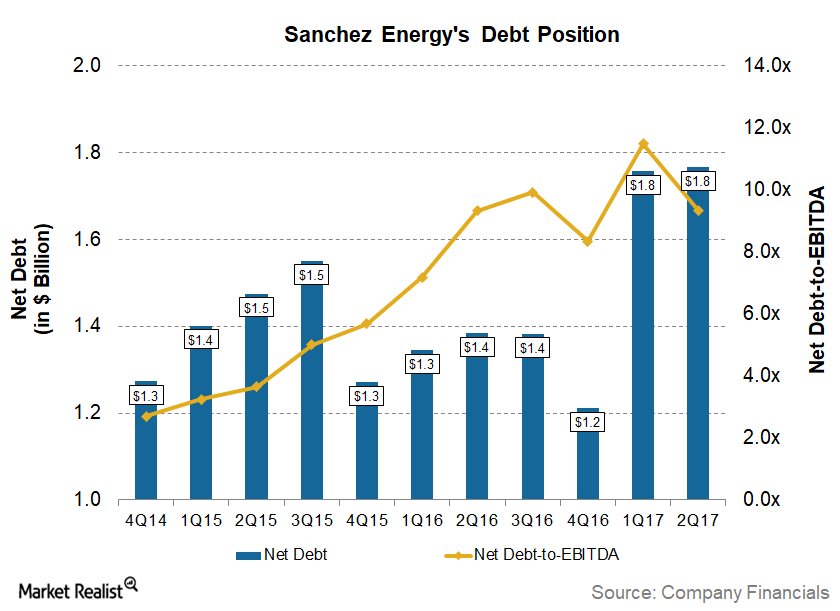 Is Sanchez Energy Repeating an Old Debt Mistake?
Sanchez Energy's production expansion
Since 1Q16, crude oil (USO)(SCO) prices have risen from lows of $26.05 per barrel to $49.30 per barrel as of September 13. Natural gas (UNG)(UGAZ) prices also rose during this period, rising from lows of $1.61 per MMBtu (million British thermal units) in 1Q16 to $3.06 per MMBtu on September 13. To take advantage of rising crude oil (USO) and natural gas (UNG) prices, in 1Q17, Sanchez Energy (SN) decided to go on an expansion spree. Per Sanchez Energy's production guidance, it plans to expand its production by a whopping ~31% from ~53 Mboepd (thousand barrels of oil equivalent per day) in 2016 to ~70 Mboepd in 2017.
Article continues below advertisement
Sanchez Energy's debt expansion
However, to increase production in 2017, SN has not only increased its capital expenditures but also done an acquisition. In 1Q17, Sanchez Energy acquired 318,000 gross acres in Western Eagle Ford for ~$2.3 billion from Anadarko Petroleum (APC). Due to higher capital expenditures and these acquisitions, Sanchez Energy's net debt shot up from ~$1.2 billion in 4Q16 to ~$1.8 billion in 2Q17.
As of 2Q17, Sanchez Energy's trailing-12-month EBITDA stood at ~$189 million and its net debt-to-EBITDA stood at ~9.3x—much higher than the upstream industry's average net debt-to-EBITDA of ~3.5x.
Is Sanchez Energy repeating an old mistake?
Interestingly, Sanchez Energy executed a similar production expansion using a debt-driven acquisition strategy in 2014. In 2Q14, Sanchez Energy acquired 106,000 acres in The Eagle Ford Trend Of South Texas for ~$639 million. Due to the higher capital expenditures and this acquisition, SN's net debt shot up from ~$440 million in 4Q13 to ~$1.5 billion in 3Q15.
Unfortunately, the acquisition's timing didn't work in Sanchez Energy's favor. Crude oil and natural gas topped in 2Q14 and were in decline until 1Q16, which caused a steep reduction in Sanchez Energy's earnings despite rising production. Sanchez Energy's trailing-12-month EBITDA fell ~86% from ~$351 million in 2Q14 to ~$139 million in 3Q16, which caused Sanchez Energy's net debt-to-EBITDA to rise from the low of ~3x in 2Q14 to ~9.9x in 3Q16.
So, if energy prices fall, Sanchez Energy might be in trouble due to its high debt.