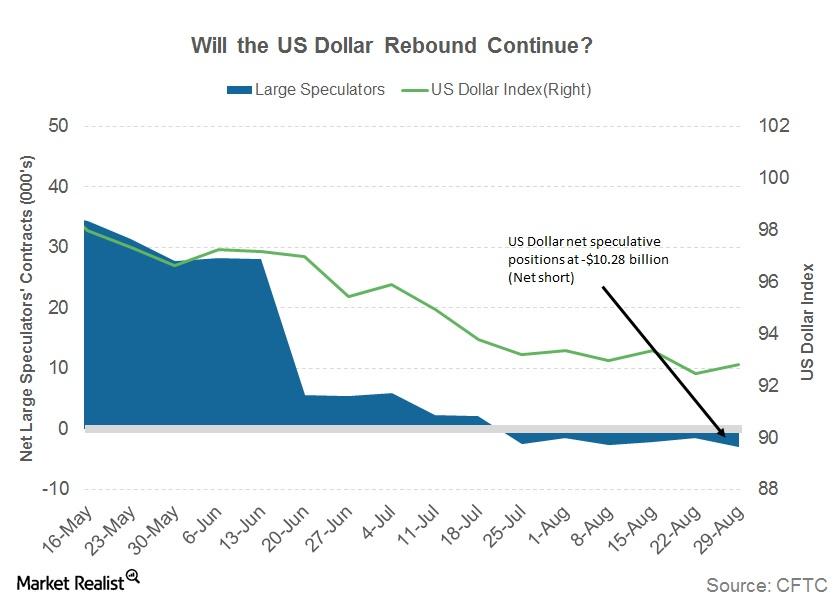 How to Make Sense of the US Dollar Rebound
US dollar rebounds despite weak jobs report
The US Dollar Index (UUP) surprised the markets with its resilience despite a weak August jobs report. The index closed the week ended September 1, 2017, at 92.8, a rise of 0.10%. There were 156,000 jobs added in August compared to the market expectation of 180,000 jobs. The unemployment rate ticked higher to 4.4%, and wage growth remained unimpressive.
The only explanation for the US dollar rebound could be that investors are betting on a hawkish statement from the FOMC (Federal Open Market Committee) in its September 19–20, 2017, meeting. The Fed funds futures also indicated higher chances of a rate hike despite a weak jobs report.
Article continues below advertisement
Article continues below advertisement
Speculators add to short positions on US dollar
According to the latest Commitment of Traders Report released on September 1, 2017, by the CFTC (Chicago Futures Trading Commission), large speculators and traders increased their bearish positions on the US dollar.
According to Reuters, the net US dollar (USDU) net short positions rose to -$10.3 billion compared to -$9.4 billion in the previous week. That amount is a combination of US dollar contracts against the combined contracts of the euro (FXE), the British pound (FXB), the Japanese yen (FXY), the Australian dollar (FXA), the Canadian dollar (FXC), and the Swiss franc.
Week ahead for the US dollar
Fundamentally, the US dollar should continue to remain weak. The latest apparent hydrogen bomb test by North Korea aided demand for safe-haven currencies, leading to a sell-off in the US dollar on Monday morning. The recent events indicate that the markets may not be prolonging geopolitical sell-offs, so it's possible that the latest developments may not lead to a widespread risk aversion.
We'll have to wait for any additional US response to North Korea's provocations. The markets might be focused this week on Fed members who are scheduled to speak. Hawkish comments could add to the strength of the US dollar.