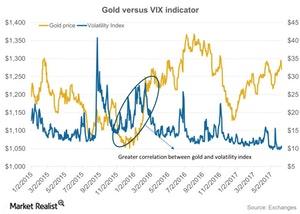 How Gold, Silver, and Mining Companies Performed on September 18
Silver slid on September 18
On September 18, gold fell 1.1% and touched its two-and-a-half-week low of $1,304.30 per ounce, closing at $1,306.90 per ounce. Of the precious metals, silver saw the biggest fall on the day. Silver fell 3.1% and closed at $17.10 per ounce.
Silver is nearly 4.5% lower than its five-month peak reached in early September. During the past five trading days, silver has lost about 4.2%.
Platinum was down 1.1% for the day and closed at $961.10 on September 18. Palladium rose 0.94% and ended the day at $934.70 per ounce. Palladium posted a marginal 0.13% loss over the past five trading days.
The drop in the global tensions over the Korean Peninsula could have contributed to the decline in the price of precious metals. Precious metals are highly reactive to global concerns, and they often rise whenever the economy is uncertain.
The chart above shows how gold moves in relation to market volatility. When investors are speculative, they often park their money in haven assets like gold, silver, and government securities.
Article continues below advertisement
Global concerns
Precious metals like gold and silver do not typically perform well in a high interest rate environment. The economies of Canada, the UK, Europe, and the United States are slowly moving toward economic tightening, which could have a negative impact on gold.
Among the leveraged mining-based funds, the Direxion Daily Gold Miners ETF (NUGT) and the ProShares Ultra Silver ETF (AGQ) have lost 9.6% and 6.2%, respectively, during the past five trading days.
The miners that were the biggest losers on Monday were Primero Mining (PPP), Harmony Gold (HMY), Kinross Gold (KGC), and Yamana Gold (AUY). These four miners dropped 17.9%, 7.0%, 6.0%, and 4.2%, respectively.