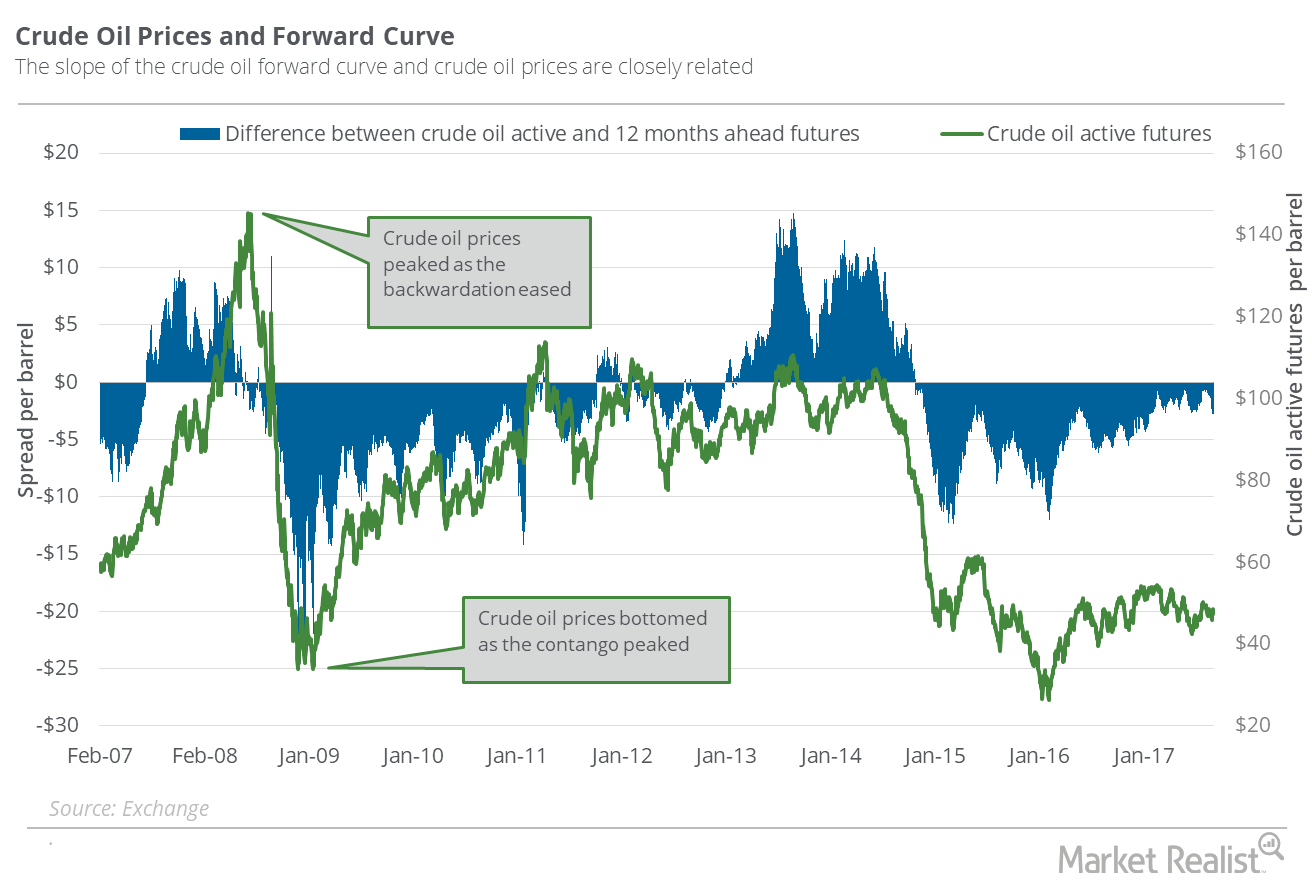 Have Oil Supply Glut Concerns Relaxed since Harvey?
Futures spread
On September 5, US crude oil October 2018 futures traded at a premium of $1.94 to October 2017 futures. On August 29, the premium was at $2.37. In fact, between these two dates, US crude oil October futures rose 4.8%.
Article continues below advertisement
Contango
The futures spread is at a premium during "contango." When this premium expands, oil prices usually fall. For example, the premium spiked to over $12 on February 11, 2016. On the same day, US crude oil active futures fell to their 12-year low. The opposite is also true: when the spread premium falls, oil prices tend to gain.
Backwardation
The futures spread is at a discount during "backwardation." When this discount expands, usually oil prices gain. For example, the discount spiked to over $10 on June 20, 2014. On that day, US crude oil active futures settled at their highest point before the start of the more-than-three-year rout in crude oil prices
In the past four trading sessions, US crude oil prices gained as the contango, or spread premium, contracted. As refineries resumed operations on the Gulf Coast, crude oil supply-glut concerns eased. We discussed this effect in Part 1 of this series.
Energy stocks
Contango could encourage US crude oil producers (XOP)(IEO)(DRIP) to sell their current output at a later date for higher prices. Moreover, the shape of the US crude oil's futures forward curve could impact their hedging decisions. It also impacts midstream companies' (AMLP) oil storage and transportation operations.
On September 5, US crude oil futures contracts for delivery in December 2025 settled at progressively higher prices compared to active futures. Also, ETFs that track crude oil futures, like the United States Oil Fund LP (USO), could underperform active US crude oil futures because of the contango spread.
Our upstream guide could improve your understanding of the upstream industry.