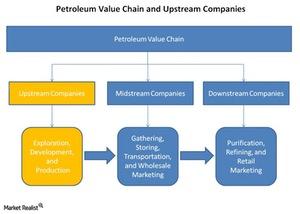 Where Do Upstream Energy Companies Sit along the Petroleum Value Chain?
What is the petroleum value chain?
When we pump gasoline into our cars, we're acting as an "end point" to the entire petroleum value chain. But more than likely, it's rare that we imagine how difficult and complex the process of bringing gasoline to the fuel pumps from the earth can be. The scope of the petroleum sector is very broad, but at the highest level, it's divided into the following three major industries:
upstream
midstream
downstream
In this first part of our 14-part series, we'll look into the basis on which these three industries are categorized.
Article continues below advertisement
Upstream energy companies
Upstream energy companies are the very starting point of the petroleum value chain. These kinds of companies are involved in the following processes:
exploration
appraisal
development of crude oil and natural gas facilities
production of crude oil and natural gas
We should note here that upstream companies are also known as E&P (exploration and production) companies. In subsequent parts of this series, we'll examine the details of the operations, products, and factors that affect upstream, or E&P companies.
Midstream energy companies
Midstream energy companies are mostly involved in the gathering, processing, storing, transporting, and wholesale marketing of energy commodities like crude oil, natural gas, and natural gas liquids. For a more detailed discussion on midstream energy companies, refer to Market Realist's MLPs: An Overview of the Best-Performing Energy Sector.
Article continues below advertisement
Downstream energy companies
Downstream energy companies are the ending point of the petroleum value chain and are mostly involved in the purifying, processing, refining, and marketing of petroleum products. These kinds of companies include the following entities:
oil refining companies
petrochemical plants
distribution outlets
Apart from above three categories, there are some very large companies like BP and Royal Dutch Shell whose operations have a presence in all three categories along the petroleum value chain. These kinds of companies are known as "integrated oil companies."
The petroleum value chain also includes some specialized companies that are experts in conducting seismic surveys, interpreting geophysical data, drilling wells, and maintaining oil fields. These kinds of companies provide specialized services to E&P companies and hence are known as "oil services companies."
Upstream investment options
We should make one further distinction here. Upstream companies such as Occidental Petroleum Corporation (OXY), Murphy Oil Corporation (MRO), and Pioneer Natural Resources (PXD) are involved mainly in the production of liquid hydrocarbons. By contrast, other upstream companies, such as EQT Corporation (EQT) and Southwestern Energy Company (SWN), stay involved mainly in natural gas production.
Apart from investing directly in these companies, investors can also gain exposure to upstream energy companies like these by investing in the SPDR S&P Oil and Gas Exploration & Production ETF (XOP).
Continue to the next part of this series for a look at the geographical presence of upstream companies.