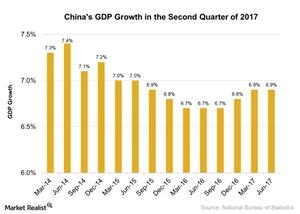 Does China's Gradual Economic Growth Support Emerging Nations?
China's economic growth
In past years, China's economy has faced various challenges. Slower economic activity and a rising debt level have created a huge problem for the country. It not only has affected the performance of emerging nations, but it has also affected global (ACWI) growth.
China is an important trading partner with the United States (SPY) (QQQ), Europe (VGK), and many emerging nations. The fall in its economic activity raised concerns about the fall in trade flows with these countries. Reduced trade flow affected global growth.
Article continues below advertisement
Reforms by the central bank
In 2Q17, China's economy posted an annual growth rate of 6.9%, which is the same as 1Q17. It beat the market expectation of a 6.8% growth. Stronger industrial production and higher retail sales are mainly driving economic growth. China's government expects the economy to grow at a marginally slower rate of 6.7% in 2017. However, the central bank has taken various steps to control the credit level. It's also trying to reduce the country's debt level and the housing bubble.
The above reforms are expected to drive strong economic growth. If China posts strong growth in the near future, it could add a sizable value to global growth.
In the next part of this series, we'll analyze the performance of Brazil's economic growth.