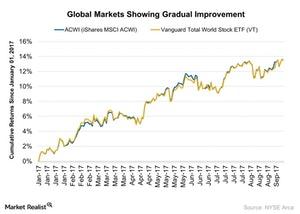 How Emerging Market Manufacturing Activity Is Trending
Key economic indicators
Key manufacturing PMIs from emerging economies that were released last week include the following:
India's (INDA) manufacturing PMI
China's (YINN) manufacturing PMI
Indonesia's manufacturing PMI
Mexico's (EWW) manufacturing PMI
Brazil's (EWZ) manufacturing PMI
Russia's (RSX) manufacturing PMI
India's services PMI
China's services PMI
Brazil's services PMI
These indicators also help investors to identify the short-term trend in the market as well as in the economy.
Article continues below advertisement
Series overview
In this series, we'll take a look at the final manufacturing PMI for India, Mexico, China, Brazil, Indonesia, and Russia for August 2017. Emerging market (EEM) (VWO) manufacturing activity showed mixed responses in August 2017. We'll also analyze the performance of the services PMI for India, China, and Brazil.
In the next part of this series, we'll analyze India's manufacturing PMI for August 2017.