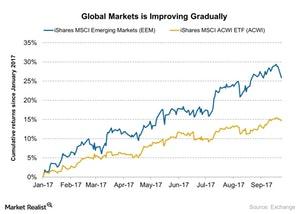 How Emerging Economies Are Supporting Global Growth
Economic growth of emerging nations
The improvement in manufacturing and services activity, trade flows, investor confidence, business climate, and stabilization in various commodity prices (DBC) are mainly driving global economic growth. In early 2016, the concern over slower global growth hampered the performance of major indexes. Falling manufacturing activity and trade flows worsened the global growth concern at that time.
Article continues below advertisement
World Bank report
According to the World Bank report, the seven largest emerging economies are expected to provide stronger economic growth. The strong recovery in these economies will drive growth both in emerging and global economies.
However, UBS strategists recently said, "The question now is whether the strong growth impulse in DM (Developing Markets) can sustain, and further, can it boost broader EM growth at a time when China is likely to slow gradually. Alternatively, can EM excluding China growth find support in its domestic demand, and sustain the complex."
The change in demographics and a stronger domestic demand are the important growth drivers for emerging economies. Going forward in this series, we'll analyze the economic growth of major emerging economies specifically.
In the next part of this series, we'll look at economic growth in India.