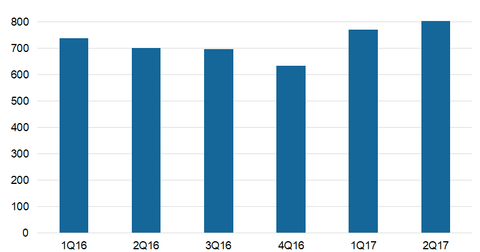 Bank of America and Asset Managers Slowing Alpha Creation
By Robert Karr

Updated
Global Wealth and Investment
The recent rise in equities has resulted in a strong performance of mutual funds, asset managers, and hedge funds in the form of performance income as well as a rise in new long-term inflows. However, the markets (SPY) (SPX-INDEX) have seen subdued performances in 2Q17 and 3Q17. The lower rate offerings on debt products are still inviting long-term flows from investors toward performing asset managers. Bank of America's (BAC) Global Wealth and Investment division saw a rise of 14.0% in net income to $804.0 million in 2Q17 on a YoY (year-over-year) basis. The division's revenues rose 6.0% to $4.7 billion.
In the second half of 2017, the division might see marginally subdued performance as well as new flows as managers find valuations high for substantial deployments.
Non-interest income for the wealth division rose 3.0% to $3.1 billion on asset management fees, partially offset by lower transactional revenues. As of June 30, 2017, Bank of America is managing assets totaling ~$2.6 trillion, an 8.0% growth YoY.
Article continues below advertisement
Bank of America's Asset Management division added $27.5 billion in long-term flows for 2Q17, reflecting an increased preference for equity offerings among institutional as well as retail clients. The trend also reflects a shift from brokerage to asset management products and services. Higher fees, performance, and new flows have led to improved efficiency with pre-tax margins rising to 28.0% compared to 25.0% in the prior year.
ETFs
In volatile or steady markets, investments have preferred ETF offerings since they carry lower costs and fewer hassles. Major players BlackRock (BLK), the Vanguard Group, and State Street (STT) have attracted strong flows over the past few years compared to flows toward active offerings.
Bank of America's Asset Management division continues to work on innovative offerings to attract more funds, including algorithm, quant-based trading platforms and advisory, separately managed accounts.