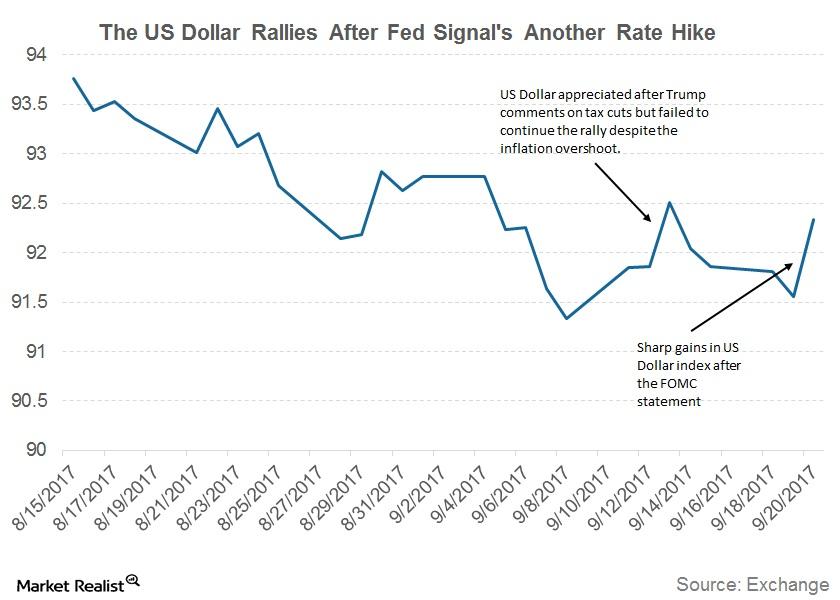 Assessing the US Dollar's Rally after the Latest Hawkish Fed Statement
US dollar rallied after the FOMC statement
The US dollar rallied after the latest FOMC (Federal Open Market Committee) meeting statement was released on September 20. The hawkish monetary policy outlook, which projected another rate hike later this year—followed by three more in 2018—gave wings to the US dollar (UUP).
The US dollar rallied against most major currencies, registering gains of 0.84% against the euro (FXE) and 0.56% against the Japanese yen (FXY) on September 20. Continued tightening from the Fed is likely to keep the dollar afloat in the near term.
Article continues below advertisement
December rate hike probability now at 60%
The new hope for another rate hike from the Fed led to an increased probability of a December rate hike. But the question we need to ask is whether this optimism can continue.
There are two more employment and inflation reports before the December 2017 meeting, and the impact of Hurricanes Harvey and Irma have not completely been reflected in the economic data.
The Fed has done its part by signaling a rate hike to keep its options open, and if the data disappoints, it can always avoid a rate hike. To be sure, foreign exchange market participants will be active for every important US economic data release between now and December and keep changing their views based on incoming data.
Key takeaways from this meeting
In terms of expectations, the Fed made a few important changes to the economic outlook. The statement said that third-quarter growth could be slow due to recent hurricanes but the US economy should continue on a growth path.
Inflation expectations have been raised, but markets appear to be disagreeing with the Fed's opinion. The September FOMC statement has given new life to the US dollar (USDU) and new pain for US bond (GOVT). If the economy continues to accelerate along expected lines, the Fed could remain hawkish and go ahead with its monetary tightening plans.