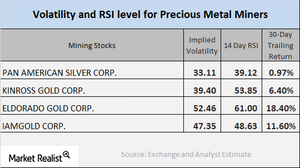 Analyzing Miners' Technicals in September 2017
Miners' technicals
When reading miners' performances, it's crucial to take a look inside the technicals of the stocks. Many of the miners saw a revival in prices on Friday, September 22, 2017, since the metals had an upswing.
Let's look at some of the technical indicators, including volatility figures and RSI levels, for major miners First Majestic Silver (AG), Goldcorp (GG), Newmont Mining (NEM), and Silver Wheaton (SLW).
Article continues below advertisement
Implied volatility
Call-implied volatility is used for measuring the fluctuations in the price of the stock with respect to the changes in the price of its call option. On September 22, 2017, First Majestic Silver, Goldcorp, Newmont Mining, and Silver Wheaton had volatilities of 49.1%, 26.7%, 23.5%, and 30.8%, respectively. Volatility in mining stocks is often greater than the volatilities of precious metals.
RSI levels
An RSI (relative strength index) measures whether a stock has been overbought or oversold. If a stock's RSI is above 70, it may be overbought, and its price may fall. If a stock's RSI is below 30, it could be oversold and might correct upward.
The RSI levels for the miners mentioned above have recently undergone some revival. First Majestic Silver, Goldcorp, Newmont Mining, and Silver Wheaton have RSI levels of 50.6, 32.4, 43.1, and 24.6, respectively. The recent fall in their stock prices led to a considerable fall in their RSIs.
Mining funds such as the Global X SIlver Miners ETF (SIL) and the iShares MSCI Global Gold Miners (RING) have fallen 1.6% and 4.1%, respectively, over the past week, thanks to falling precious metals.