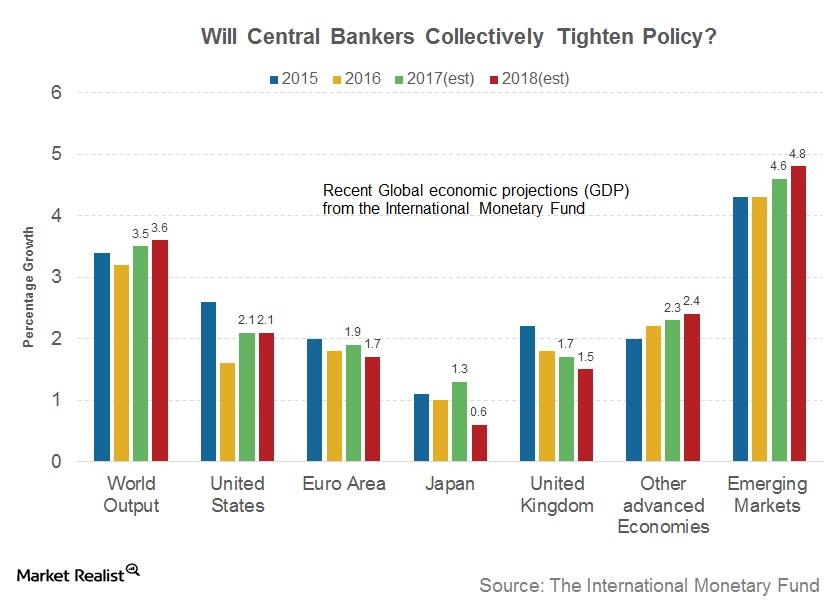 Will Jackson Hole in 2017 Be the Beginning of the End of Monetary Accommodation?
By Ricky Cove

Aug. 24 2017, Updated 5:06 p.m. ET
Will central bankers signal the end of accommodation?
This year's theme for the annual Jackson Hole Symposium is "Fostering a Dynamic Global Economy." It's interesting to observe that the major economies have been handled with extraordinary monetary policies by central bankers over the past decade.
Central bankers had run out of tools to conduct normal monetary policy after the last recession and had to resort to unconventional monetary policies. Now that these economies are facing fewer economic risks, central bankers have begun the process of removing their stimulus measures. This year's Jackson Hole Symposium is an ideal platform for emphasizing the importance of returning to normalcy.
Article continues below advertisement
What impact will normalization have on markets?
If central bankers continue with their normalization plans and move away from quantitative easing, there could be upward pressure on global bond (BSV) yields. Markets—especially bond (BIV) markets—have now grown used to lower volatility as interest rates have remained low for a long time. Once interest rates start rising, volatility in both the bond (BNDX) and equity (QQQ) markets will also increase along with rates.
Key points to watch for at Jackson Hole in 2017
Investors will be watching out for any surprise comments related to monetary policy changes. It's likely that participants will echo the need to normalize policy. The speech from ECB (European Central Bank) President Mario Draghi will be watched for any signs of tapering. If Draghi does talk about tapering, the euro (FXE) will likely appreciate further and European bond (BWX) yields could move higher.
As far the US Fed is concerned, only an aggressive view about rate hikes will likely induce volatility (VXX). Balance sheet unwinding is unlikely to have any major impact, but investors need to be prepared for any surprise comments from the speakers, as they could drive volatility higher in coming days.