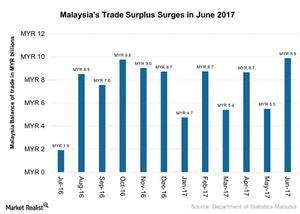 What's behind Malaysia's Large Trade Surplus in June 2017?
The Malaysian economy
Malaysia's trade surplus jumped to 9.9 billion Malaysian ringgit (MYR) (about $2.3 billion as of August 11, 2017) in June 2017—an 80% rise YoY (year-over-year). The trade surplus in June 2017 was the largest since March 2016, as exports grew more than imports.
Malaysian (EWM) trade performance in June 2017 seems to be benefitting from the improved global (ACWI) trade. Global economic activity has been on an uptrend in 2017, which is supporting global trade, and the rising trend in exports since last year is now helping improve Malaysia's trade surplus in 2017.
Notably, the MYR-USD exchange rate stood at nearly 0.23 as of July 11, 2017.
Article continues below advertisement
Trade surplus in June 2017
Malaysia's trade surplus in June 2017 remained above the market estimates. Exports increased at a faster rate compared with imports in June 2017, resulting in a record surplus. Exports in June 2017 stood at 73.1 billion ringgit—a 10% YoY rise—while imports in June stood at 63.2 billion ringgit, or 3.7% higher YoY.
The export unit value index and export volume index posted increases of 7.5% and 2.3%, respectively, on a yearly basis. The import unit value index also registered an increase of 6.2% YoY. By contrast, the import volume index fell 2.3%.
Specifically, YoY exports increased to China (FXI), Japan (EWJ), Singapore (EWS), European Union (VGK), and South Korea (EWY) in June 2017.
Improved global trade
Malaysian exports are expected to benefit from improved global trade and investments in 2017. However, the geopolitical instability around the Korean peninsula and Middles East is expected to impact trade in 2017.
Meanwhile, the recent hawkish statement by the Fed, which indicated another rate increase and the potential trimming of the Fed's balance sheet, is also expected to create a headwind for investments in emerging markets (EEM) like Malaysia.