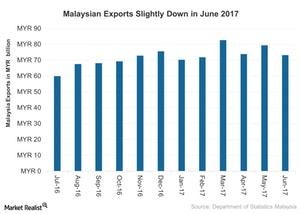 Understanding the Marginal Decline in Malaysian Exports in June
Malaysian exports in 2017
Exports from Malaysia (EWM) in June 2017 stood at 73.1 billion Malaysian ringgit (MYR) (about $17 billion as of August 11, 2017), or 10% higher YoY (year-over-year) and 8% lower than in May 2017.
The Malaysian (EEM) economy in 2017 continues to benefit from its robust and diversified export sector with its high-tech products. Improved global (ACWI) demand also seems to be helping Malaysian exports in 2017.
Notably, MYR-USD exchange rate stood at 0.23 as of July 11, 2017.
Article continues below advertisement
Exports in June 2017
Exports in June 2017 remained below market estimates of a YoY 15.8% growth. However, exports in June rose for the eighth-straight month on an annual basis, mainly driven by electrical and electronic products, liquefied natural gas, palm oil and palm based products, and natural rubber. Exports declined for refined petroleum products, timber and timber-based products, and crude petroleum.
Specifically, exports in June increased to China (FXI), Singapore (EWS), the US (SPY), Japan (EWJ), and Thailand (THD).
The volatility in commodity (DBO) (USO) prices have been impacting Malaysian exports, and the recent slump in commodity prices—along with demand conditions—seems to have affected its trade in June, compared with May.
Increasing FDI in Malaysia
Meanwhile, foreign direct investments have a crucial role to play in the Malaysian export sector. This has been an important factor supporting Malaysia's GDP growth in recent years, and its outward-looking economy has seen a rise in FDIs (foreign direct investments) over the past few years.
FDIs in Malaysia stood at 17 billion ringgit (about $4 billion as of August 11, 2017) in 1Q17—its highest level since December 2012. These increased investments are expected to support the manufacturing sectors, which are largely driven by exports in Malaysia. Notably, international companies operating in Malaysia include Intel (INTC), Dell, Flextronics Technologies (FLEX), and Advanced Micro Devices (AMD).