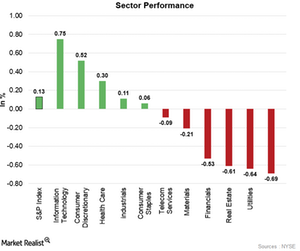 Why Did S&P 500, NASDAQ, and Dow Rebound on August 11?
By Val Kensington

Updated
S&P 500
After declining for three consecutive trading days, the S&P 500 broke the losing streak and rebounded on Friday. Five of the S&P 500's 11 major sectors had a positive close on August 11, 2017. Weakness in the utilities and energy sectors weighed on the market, but the rebound in the information technology and consumer discretionary sectors supported the market.
Article continues below advertisement
Market sentiment
The market sentiment was mixed on Friday due to support from decreased interest rate expectations and geopolitical tensions. The weaker-than-expected inflation data from the United States reduced expectations of interest rate hikes from the Fed and supported the market. According to the data released by the Bureau of Labor Statistics, the US Core Consumer Price Index (CPI) recorded growth of 0.1%, less than the market's expected 0.2% reading. On the other hand, the ongoing political tensions between North Korea and the United States continued to weigh on US markets on Friday.
Volatility
On August 11, the S&P 500 started the day higher and closed the day with gains. The S&P 500 CBOE Volatility Index (or VIX) measures uncertainty in the market. On August 11, it fell 3.3% to 15.5. The VIX is measured on a scale of one to 100 with 20 as the historical average. It's also called the fear index. It usually has an inverse relationship to stocks and rises when the S&P 500 falls.
The NASDAQ and the Dow
Similar to the S&P 500, the Nasdaq Composite Index and the Dow Jones Industrial Average also started the day higher on August 11. The tech-heavy NASDAQ was supported by the rebound in the information technology sector and gained the most out of the three major indexes. The Nasdaq Composite Index rose 0.64% and closed the day at 6,256.6. The Dow Jones Industrial Average rose 0.07% and closed at 21,858.3. In the next part, we'll see how commodities are performing in the early hours of August 14.