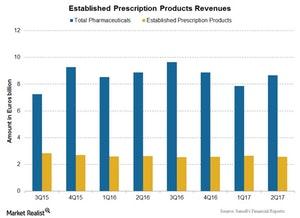 Performance of Sanofi's Established Products in 2Q17
By Mike Benson

Updated
Established products
Sanofi's (SNY) established products contributed over 29.5% of its total revenue in 2Q17. Established product revenue, which fell 2.3% at constant exchange rates in 2Q17, stood at 2.6 billion euros.
Lower sales of Plavix, Lovenox, Allegra, Myslee, Lasix, and a few other drugs were substantially offset by strong performance by Renagel, Renvela, Aprovel, Synvisc, and Depakine.
Article continues below advertisement
Plavix
Plavix, an anticoagulant used to prevent blood clots, reported a 0.3% revenue decline to 385 million euros in 2Q17. The drug's revenue has fallen over the last few quarters due to loss of market share to competitive products such as Brilianta from AstraZeneca (AZN), Effient from Eli Lilly and Company (LLY), and Xarelto from Johnson & Johnson (JNJ).
Lovenox
Lovenox, an anticoagulant used to prevent blood clots, reported a 2.4% revenue decrease to 402 million euros in 2Q17, mainly due to lower sales in Europe and other markets, excluding US and emerging markets. In 2Q17, US revenue was nearly flat, while emerging markets reported revenue growth. Lovenox is exposed to generic competition in US markets, and has potential biosimilars in European markets.
Renagel and Renvela
Renagel and Renvela are used to control serum phosphorus in dialysis patients with chronic kidney disease. These drugs reported revenue growth of 16.8% at constant exchange rates to 248 million euros in 2Q17. Other drugs from this franchise include Aprovel, Allegra, Depakine, Lasix, Myslee, Synvisc, Targocid, and Tritace.
To divest company-specific risks, investors could consider the BLDRS Europe Select ADR ETF (ADRU) which has a 3.3% exposure to Sanofi (SNY). ADRU also has a 6.7% exposure to Novartis (NVS), a 2.5% exposure to Novo Nordisk (NVO), and a 2.9% exposure to GlaxoSmithKline (GSK).