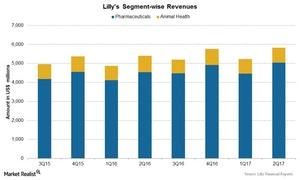 Performance of Eli Lilly's Business Segments in 2Q17
Business segments
Eli Lilly & Co. (LLY) is a US-based pharmaceutical company that has classified its business into two business segments:
Human Pharmaceuticals segment
Animal Health segment
The chart below shows the segment-wise revenues for Eli Lilly since 3Q15. The Human Pharmaceuticals segment is the largest revenue contributor, with contributions exceeding 86% of total revenues during 2Q17.
Article continues below advertisement
Performance for each business segment
The Human Pharmaceuticals segment includes products from therapeutic areas such as cardiovascular, endocrine, neuroscience, and oncology. The segment reported revenues of ~$5.0 billion during 2Q17, representing 10.9% growth compared to its 2Q16 revenues.
This growth was driven by the strong performance of products like Effient, Forteo, Humulin, as well as new products such as Basaglar, Cyramza, Jardiance, Taltz, and Trulicity. However, lower sales of Alimta, Cialis, Cymbalta, Humalog, Strattera, and Zyprexa offset this growth during 2Q17.
Elanco, Eli Lilly's Animal Health segment, reported revenues of $784.8 million for 2Q17, a 9% decline compared to 2Q16. These revenues included a 9% decline in volumes and 1% growth in price impact, offset by a 1% negative impact of foreign exchange.
Geographical performance
The US markets reported revenue growth of 19%, driven by a 10% positive impact of prices and 9% growth in volumes during 2Q17.
The revenues for Japan reported 3% growth in volumes, offset by lower prices and the negative impact of foreign exchange. The overall revenues from Japan rose ~2% during 2Q17.
The revenues from Europe were nearly flat, driven by 7% growth in volumes. These revenues were offset by a 4% negative impact of prices and a 3% negative impact of foreign exchange during 2Q17.
To diffuse company-specific risks, investors can consider the First Trust NASDAQ Pharmaceuticals ETF (FTXH), which holds 4.1% of its total assets in Eli Lilly (LLY). FTXH also holds 4.2% in Allergan Plc (AGN), 8.5% in Johnson & Johnson (JNJ), and 3.3% in Mylan (MYL).