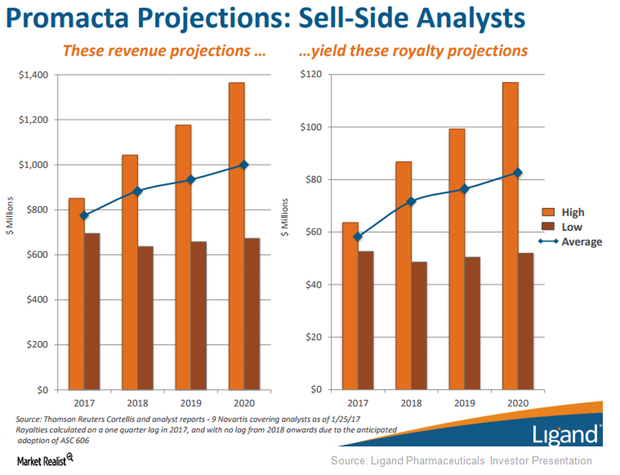 Ligand Pharmaceuticals Projects Higher Average Royalty Rate for Promacta
Higher average royalty rate
In 2Q17, Novartis' (NVS) Promacta reported revenues of $210 million, which is a solid rise of 20% on a sequential basis and 33% on a year-over-year (or YoY) basis. With the company studying the potential of the drug in additional indications in 35 ongoing clinical trials, Promacta is expected to cross the $1.0 billion revenue mark in the next few years.
Ligand Pharmaceuticals (LGND) receives royalties from Novartis on Promacta's sales according to a tiered annual payment structure. The royalty rate for the first $100 million in revenues of the drug is 4.7%, increasing to 6.6% for the next $100 million of Promacta's revenues.
Article continues below advertisement
In the revenue range from $200 million to $400 million, the royalty rate paid to Ligand Pharmaceuticals is 0.5%. The royalty rate payable to the company on the drug's revenues in the range from $400.0 million to $1.5 billion is 9.4%. For Promacta's annual revenues in excess of $1.5 billion, a royalty rate of 9.3% is to be paid to Ligand Pharmaceuticals.
With Promacta's annual sales rising from $50 million in 2010 to $635 million in 2016, Ligand Pharmaceuticals has seen a gradual rise in the effective royalty rates and the royalty revenues earned from the drug. Ligand Pharmaceuticals makes up about 0.35% of the iShares Core S&P Small-Cap ETF (IJR).
Patent protection
The chart above gives a snapshot of Promacta's projected revenues in 2017 as well as royalties earned by Ligand Pharmaceuticals.
Promacta has orange book patents extending until 2027. So, the drug may be able to protect its revenues from generic erosion for a significant period of time. Promacta has enabled Novartis and Ligand Pharmaceuticals to compete with other thrombocytopenia players such as Sanofi (SNY) and Amgen (AMGN).