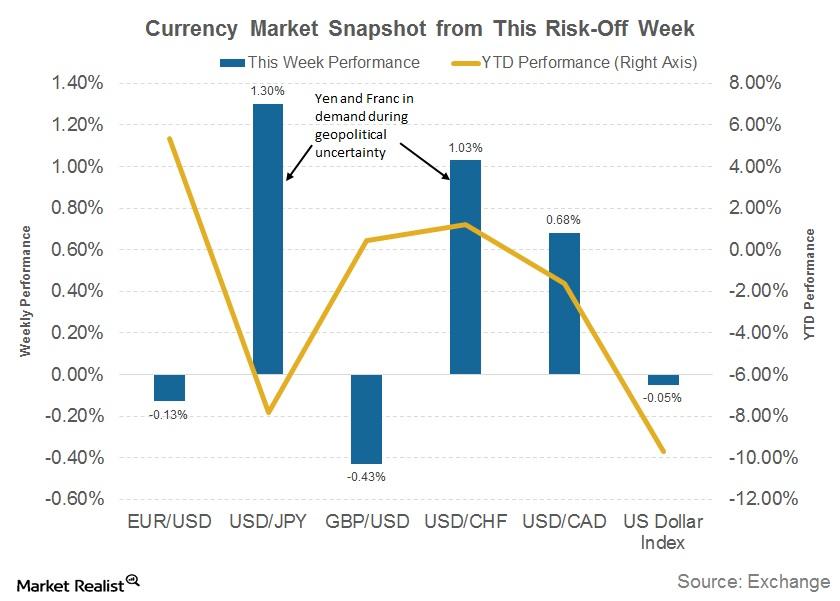 A Lesson from Currency Markets during Geopolitical Tensions
Japanese yen and Swiss franc back in demand
The Japanese yen (FXY) has been on a depreciating trend this year along with the US dollar as its economic woes continue to dominate. But last week's rising geopolitical tensions between the United States (UUP) and North Korea turned the tide for the yen (JYN). The other currency that has appreciated is the Swiss franc (FXF). Recent gains in the euro (FXE), the pound (FXB), and other emerging market currencies have been reduced as risk-off conditions prevailed.
Article continues below advertisement
Article continues below advertisement
Why is there a demand for the yen and the Swiss franc?
Did you ever wonder why the Japanese yen and the Swiss franc are the only currencies that appreciate in times of uncertainty? Their economies are not doing that well, so why do investors pour into these currencies when there are geopolitical tensions? The answer lies in the current account balance. Japan and Switzerland receive more inward payments than outflow. Japan, because it's a net exporter, and Switzerland get a considerable amount in bank deposits from all over the world.
The yen's carry trade is also cited as one of the reasons for this spike in demand. Japanese interest rates have remained close to zero for nearly 20 years, resulting in investors borrowing in the yen and investing in higher interest rate economies. In times of uncertainty, these funds are expected to come back into the yen. But are these valid reasons for these currencies to be safe havens? Not really, but the markets believe so, and it will continue to be.
Outlook for currency markets
If the current tense geopolitical situation continues, we can expect further gains in the Japanese yen and the Swiss franc. The US dollar has gained some ground but continues to remain under pressure. The US dollar index (USDU) has risen 10.0% so far this year and is considered a safe haven. Volatility in the currency markets is likely to remain high, and further escalation in geopolitical tensions could impact emerging market currencies and slow down the overall global economic expansion.