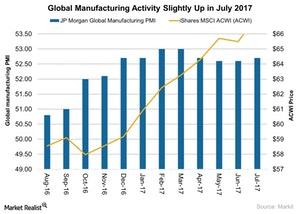 Global Manufacturing Activity Picks Up the Pace in July 2017
Global manufacturing activity
In July, the JP Morgan Global Manufacturing PMI (purchasing managers' index) rose to 52.7 from 52.6 in June, according to an IHS Markit report. The July level was a three-month high, with business conditions continuing to improve in 2017. However, output growth slowed to a ten-month low.
In this series, we'll look at the performance of global (ACWI) manufacturing indexes and manufacturing activity in emerging markets. A manufacturing PMI score above 50 indicates expansion, whereas a score below 50 indicates contraction in the manufacturing sector.
Article continues below advertisement
Global manufacturing sector performance
The JP Morgan Global Manufacturing PMI indicated improvement in operating performance for seventeen consecutive months as of July 2017. The pace of expansion in new orders strengthened. The US (SPY) saw its manufacturing PMI score rise to a four-month high, indicating an upturn in manufacturing activity.
Europe continues to outperform
Global manufacturing growth has been mainly led by European nations (VGK) in 2017. Currently, eight European nations are among the ten best-performing countries, followed by Canada (EWC) and Australia (EWA). European nations have seen a strong inflow of new export business so far this year. Germany, the United Kingdom, the Netherlands, Austria, Spain, and France are experiencing the fastest rise in foreign demand.
Article continues below advertisement
Sluggish performance in developing countries
Most Asian (ASEA) nations, including India, South Korea, Indonesia, Malaysia, Thailand, and Myanmar, are seeing contraction. China (FXI) saw the slowest rise in growth in July, and growth in Japan, Vietnam, and the Philippines slowed down. Taiwan was the only Asian country to register a solid rate of expansion.
In Latin America, Brazil continued to suffer from stagnated growth in July 2017, following three months of expansion.
Employment
In July 2017, global manufacturing employment had increased for 11 consecutive months, with the job growth rate being slightly above the average. Cost pressures remained slightly higher as input cost accelerated for the first time in six months. However, part of the increased costs was passed on to the customers through higher product charges. Next, we'll look at China's manufacturing activity.