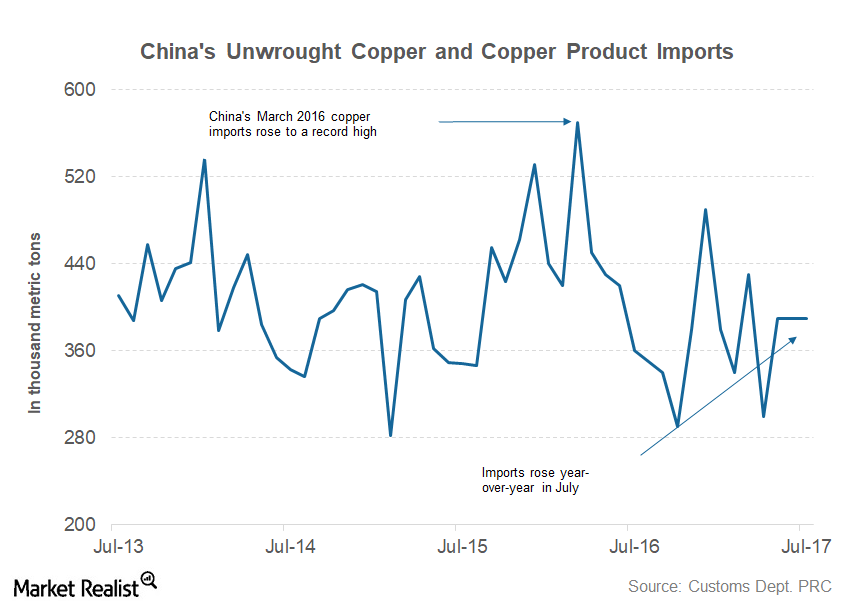 Freeport and Copper: Is a Correction in the Cards?
Correction
As noted previously, copper prices have shown strength over the last few trading sessions, which has helped the upwards price action of miners including Freeport-McMoRan (FCX), Glencore (GLNCY), and Southern Copper (SCCO). China's proposed ban on some copper scrap imports was among the key driver of copper's recent price action. However, is the import ban really such a big driver? Let's see.
Article continues below advertisement
Speculation?
According to a Reuters article, China plans to ban a particular scrap grade. Last year, the particular grade accounted for only about 300,000 metric tons of copper equivalent, which is not even one-tenth of China's annual refined copper imports. And, we've not yet considered copper concentrate imports. The article further states that even if China bans imports of copper scrap, the scrap could very well be processed outside China or worse could be imported into China under a different product category.
Simply put, the scrap copper is not going out of the global supply chain and will likely still be processed either inside or outside China. So, does copper's recent rally have any substance to it? Theoretically, copper looks better placed as compared to several other industrial metals (DBC) (RIO). However, copper has still underperformed some of the other metals including aluminum in 2017.
One could argue that copper only played catch-up with other industrial metals after its recent rally. The looming supply-side-led deficit, which many miners pointed out during their 2Q17 earnings call, should provide some comfort to copper bulls.
Having said that, there are some challenges that copper, or for that matter, most risk assets, face in the near term. We'll discuss these in the next article.