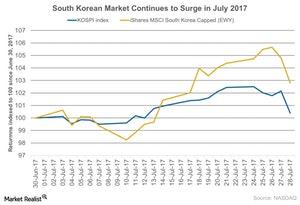 Equities in South Korea Rise with Tech Rally in July 2017
Market performance in South Korea
South Korean equities (EWY) are soaring in 2017 with the Korea Composite Stock Price Index (or KOSPI), its benchmark index, reaching an all-time high of 2,451.5 in July 2017. Technology stocks have driven the rally in the KOSPI with big gainers such as Samsung Electronics, LG Electronics, and SK Hynix reporting strong 1Q17 earnings. The macroeconomic factors also seem to be supporting improved performance, including rising consumer confidence and expansion in industrial production in 2017.
The KOSPI has risen about 18.0% so far in 2017 to reach near historic highs with increased foreign investments, making it one of Asia's (ASEA) best-performing markets in 2017. The KOSPI rose about 0.38% in July 2017, as of July 28, 2017.
In the graph below, you can see the performances of South Korean equities.
Article continues below advertisement
Improved economic growth in 2017
The pickup of global (ACWI) (VT) growth anticipated in 2017 is expected to boost economic activity in export-oriented economies such as South Korea (EEM). South Korea's GDP growth in 2Q17 continued to expand, thus supporting market performance in 2017. The services sector saw the fastest expansion at 0.80% in 2Q17 compared to 0.20% in 1Q17. Utilities also expanded at a more rapid pace of 2.6% in 2Q17 compared to a fall of 1.4% in the previous quarter.
However, the contraction in construction, manufacturing, and primary activity reduced overall growth in 2Q17 compared to 1Q17. Exports fell 3.0% in 2Q17 as exports of goods such as transportation equipment, petroleum, and chemical products decreased compared to the previous quarter.
Increased political stability and reforms
The election of President Moon Jae-in has brought stability to South Korea's political climate after the implications of former President Park Geun-hye's corruption charges. Consumer confidence is expected to improve further, boosting private consumption in 2017 with reduced uncertainty and reforms. South Korean equities are expected to continue to surge in 2017 with improved exports and investments. However, geopolitical tensions are supposed to impact its economic activity from increased tension with its large trading partners.
The iShares MSCI South Korea Capped (EWY) has risen about 3.0% in July 2017 and 31.0% so far in 2017, as of July 29, 2017.
Let's look next at GDP growth for South Korea.