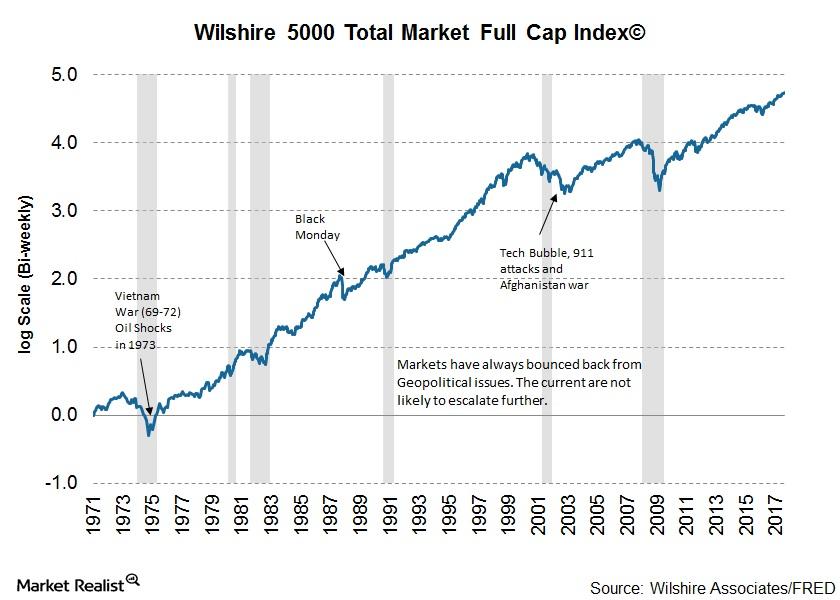 Do Financial Markets Have Another Tense Week Ahead?
By Ricky Cove

Aug. 16 2017, Updated 7:36 a.m. ET
Geopolitical tensions in focus
It all started with the United Nations Security Council imposing sanctions on North Korea in response to its aggressive missile testing program. President Trump entered a war of words with North Korea, warning that any threat from North Korea would be "met with fire and fury like the world has never seen." North Korea responded by threatening to attack the US territory of Guam as early as this week. Donald Trump sent out another warning saying that the US military is "locked and loaded." This sudden increase in tensions between the US and North Korea scared investors away from riskier assets and increased market volatility (VXX).
Article continues below advertisement
Market reaction so far
Equity markets in the US and across the globe reported heavy losses as risk aversion set in. Demand for safe havens like gold (GLD), US Treasuries (GOVT), and currencies like the Japanese yen (FXY) and the Swiss franc (FXF) has increased in this volatile environment. This demand is likely to continue if there is a further escalation of geopolitical tensions.
Outlook for the week ahead
The chances of a military conflict between the US and North Korea are slim, but the impact of such an event could be devastating for the markets (SPY). Uncertainty surrounding this possibility was responsible for the volatility (VIXY) last week. Geopolitical tensions have a strong impact on the markets. However, recent history suggests that markets usually bounce back from such impacts. There is a high probability that the current risk-off scenario won't last for an extended period, but the path to recovery is likely to be rocky.
If we ignore the geopolitical tensions, global recovery has been solid and the recent earnings season supports the view. This positive momentum in the equity market is likely to continue in the near term and lead to higher yields in the bond markets in the next few months.