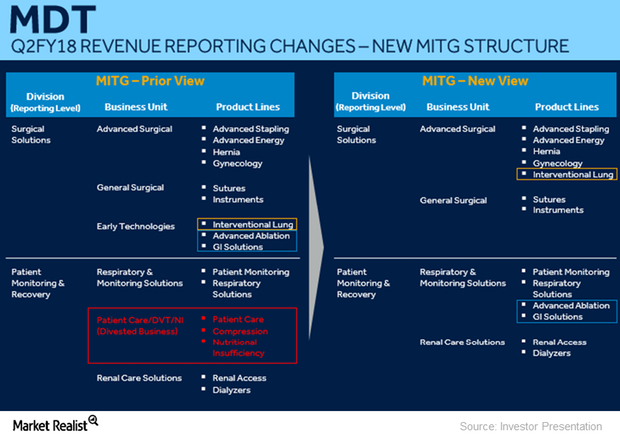 Divestiture of a Part of Medtronic's PMR Business to Cardinal Health
By Sarah Collins

Sep. 1 2017, Updated 10:36 a.m. ET
Divestiture of a part of PMR business to Cardinal Health
On July 30, 2017, Medtronic (MDT) announced the completion of the divestiture of its Patient Care, Deep Vein Thrombosis, and Nutritional Insufficiency businesses. These segments were part of Medtronic's PMR (Patient Monitoring and Recovery) division under its MITG (Minimally Invasive Therapies Group) business to Cardinal Health (CAH).
Cardinal Health already distributes some of the products that were included in the divested businesses. The deal was worth $6.1 billion in cash, and Medtronic announced the divestiture in April 2017. For highlights of the announcement, please read Medtronic Will Divest Part of Its PMR Business to Cardinal Health.
The chart above shows the new MITG structure after the divestiture. The Vanguard Total Stock Market ETF (VTI) holds ~0.45% of its total portfolio in MDT.
Some of the recent divestitures in the medical technology industry in the US include Abbott Laboratories' (ABT) divestiture of its Pharmaceuticals segment into AbbVie (ABBV) and its Medical Optics segment to Johnson & Johnson (JNJ).
Article continues below advertisement
Deal synergies
The divestiture is expected to have a positive impact on Medtronic's fiscal 2018 performance, as it has been a key factor contributing to the company's updated guidance range. Medtronic's MITG (Minimally Invasive Therapies Group) business is expected to grow 3.5%–4.5%, including a positive impact of ~50 basis points from the divestiture on its fiscal 2018 MITG performance.
The divestiture is expected to positively impact Medtronic's revenue growth and margins over the long term. Its earnings are expected to be dilutive to its fiscal 2018 EPS (earnings per share) of ~$0.18. In the short term, Medtronic expects this transaction to have a positive impact on its revenue growth rates and margins.
Next, we'll discuss Medtronic's margin expansion strategy.