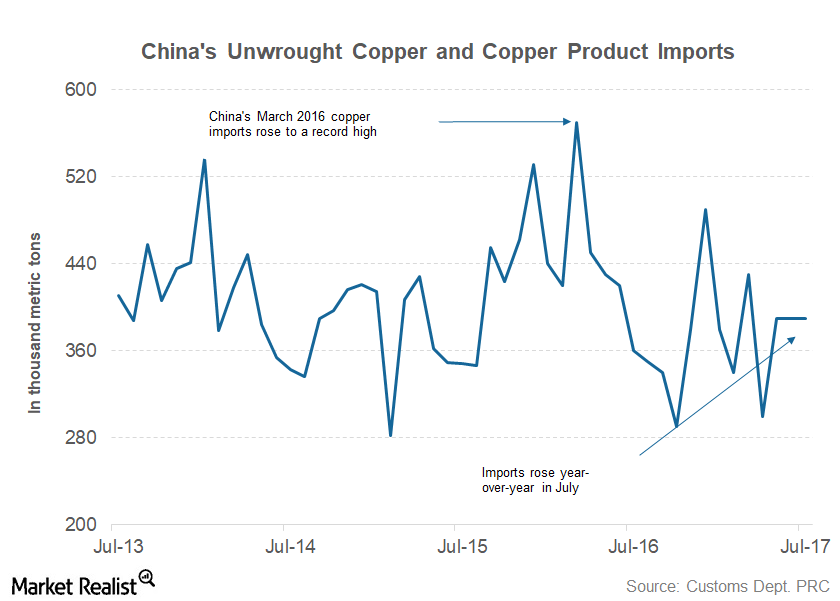 Chinese Copper Imports: Can Freeport's Good Run Continue?
Chinese copper imports
Previously in this series, we've looked at China's July steel and aluminum exports. In this final part of the series, we'll look at Chinese copper imports. Notably, copper is a different ballgame than steel and aluminum. While China is the key driver of global steel and aluminum supply, copper mining is concentrated in Latin America (ILF). However, China still affects copper's demand dynamics, accounting for roughly 45% of global copper demand (SCCO)(BHP). Analysts see Chinese copper imports data as a close proxy for the country's copper demand. Let's see how Chinese copper imports look in July.
Article continues below advertisement
Imports rise
China imported 390,000 metric tons of unwrought copper and copper products in July 2017, compared to 360,000 metric tons in July 2016. Although imports have risen 8.4% on a yearly basis, they're flat on a month-over-month basis. Notably, July marks the third consecutive month where China's unwrought copper imports have been flat on a monthly basis.
China also imports copper concentrates that are further processed in the country. Last month, China imported 1.4 million tons of copper ores and concentrates, compared to 1.38 million tons in July last year.
What next?
Copper prices have been holding steady over the last few weeks on expectations of higher Chinese demand and lower mined copper supply. Also, reports suggest that China could ban some copper scrap imports by next year, which is expected to increase China's refined and copper concentrate imports.
Copper prices have topped $6,000 per metric ton as market sentiment turned bullish. Copper miners including Freeport-McMoRan (FCX) and Glencore (GLNCY) also moved to higher price levels, piggybacking rising copper prices. While China's July trade data could be a small speedbump for copper, markets might wait for some more data points before repricing the metal.
Notably, copper's story has been more of a supply side–led deficit. See Analyzing Copper Miners' 2017 Production Plans to find out more about the projected copper deficit.
You can also visit our Copper page for ongoing updates on this industry.