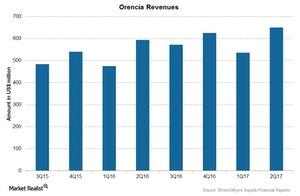 Bristol-Myers Squibb's Immunoscience Products in 2Q17
By Mike Benson

Updated
Immunoscience products
Bristol-Myers Squibb's (BMY) immunoscience franchise includes the drug Orencia. Orencia is a fusion protein used for the treatment of rheumatoid arthritis and related indications. Orencia reduces the signs and symptoms of rheumatoid arthritis in cases where other medicines are not helpful. Orencia can be used as a stand-alone therapy or in combination with other drugs, excluding TNF (tumor necrosis factor) antagonists.
The above graph shows revenues for the drug Orencia over the last few quarters.
Article continues below advertisement
Orencia revenues
Orencia revenues rose to $650.0 million in 2Q17, a 10.0% rise compared to $593 million in 2Q16. The growth in revenues was driven by the strong performance of Orencia in the US markets as well as outside the United States.
During 2Q17, US markets reported Orencia sales of $449.0 million, a 12.0% rise compared to $401.0 million in 2Q16.
Other brands
Bristol-Myers Squibb's other brands include drugs that have lost exclusivity in all the major markets. It also includes revenues for over-the-counter products and royalty revenues. Overall, the company reported a fall of nearly 16.0% in revenues for other brands in 2Q17. Total revenues from other brands were $479.0 million for 2Q17 compared to $572.0 million for 2Q16.
The US markets reported revenues of $92.0 million in 2Q17, a 5.0% fall compared to $97.0 million in 2Q16.
To divest the company-specific risks, investors can consider ETFs such as the PowerShares Dynamic Pharmaceuticals ETF (PJP), which holds 5.1% of its total assets in Bristol-Myers Squibb (BMY). PJP also holds 5.3% in Celgene (CELG), 4.6% in Merck & Co. (MRK), and 4.8% in Eli Lilly (LLY).