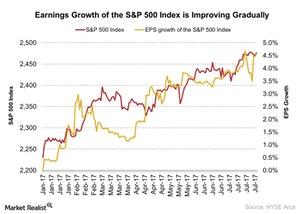 Why Billionaire Jeffrey Gundlach Is Buying S&P 500 Puts
Jeffrey Gundlach in an interview with CNBC
In an interview with CNBC's Halftime Report on Tuesday, August 8, billionaire investor Jeffrey Gundlach shared his views on:
market movements
why he's buying S&P 500 puts
the CBOE Volatility Index (VIX)
bond yields
Article continues below advertisement
Gundlach on the S&P 500 index
Jeffrey Gundlach said in the interview, "I'll be disappointed if we don't make 400 percent on the puts, and we don't even need a big market decline for that to happen. It's not really a bear call on the S&P 500. It's more of a bull call on volatility."
Gundlach believes the S&P 500 index (SPY)(IWM) will fall nearly 3% by the end of December 2017. He's not fully bearish on the S&P 500 index, but he sees some danger signs for the market. If the index falls by the year's end, then the put options he bought should provide a good return. In May, at the 2017 Sohn investment conference, he advised investors to long emerging market and short S&P 500 index. He also predicted at that time that the market may face some correction in summer.
The S&P 500 index (QQQ)(VOO) is trading at a higher valuation. The forward price-to-earnings multiple of the S&P 500 index stands at 18x, which is much higher than the historical average of 15x. Stronger earnings growth in Q2 is supporting the higher valuation of the S&P 500 Index. However, the higher valuation of the index may affect its performance in the near term. The promises made by the Trump administration, such as the phenomenal tax reform and higher infrastructure spending, are gradually losing their shine. This change could also hamper the performance of the index. Gundlach said, "I think you're supposed to be gradually moving toward the exits."
In the next part of this series, we'll analyze Jeffrey Gundlach's view on the market volatility.