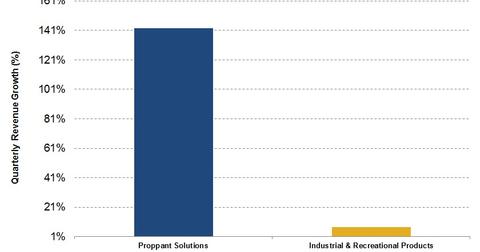 Analyzing Fairmount Santrol's 2Q17 Segmental Performance
By Alex Chamberlin

Updated
Fairmount Santrol's 2Q17 segment-wise performance
Revenues from Fairmount Santrol Holdings' (FMSA) Proppant Solutions segment more than doubled (142% rise) from 2Q16 to 2Q17. On the other hand, its Industrial and Recreational Products segment's revenue growth was muted (~7% rise) during the same period. Fairmount Santrol Holdings accounts for 0.89% of the iShares US Oil Equipment & Services ETF (IEZ). IEZ fell 8% in the past year—compared to a 62% fall in Fairmount Santrol Holdings' stock price.
Superior Energy Services' (SPN) 2Q17 revenues rose 32%—compared to the previous year. Schlumberger's (SLB) revenues rose 4% during the same period. To learn more, read Why Schlumberger's 2Q17 Earnings Beat Estimates.
The Proppant Solutions segment generated a gross profit of $54 million in 2Q17—compared to a $13.5 million loss the previous year. Its Industrial and Recreational Products segment witnessed 15% gross profit growth in 2Q17.
Article continues below advertisement
Positive factors that impacted 4Q16 
There was nearly a 14% higher North America rig count in 2Q17—compared to 1Q17. It had a positive impact on well construction, drilling services, and completion product lines.
There was 94% higher Proppant Solutions segment volume growth in 2Q17—compared to 2Q16.
There was increased market share following capacity addition from the Brewer and Maiden Rock facilities.
There was an $8 per ton average raw proppant sand pricing increase in 2Q17—compared to 1Q17.
Negative factors that impacted 4Q16 
There was a tighter supply of finer grade input, which led to the high-cost base.
There were additional costs related to plant startups and freight charges to move railcars
Performance in 1H17
In 1H17, Fairmount Santrol Holdings' revenues rose 56%—compared to 1H16. It was able to nearly wipe out its net losses during this period. In 1H17, the company's net loss was ~$1.1 million—compared to a net loss of $99.6 million in 1H16.
Next, we'll discuss Fairmount Santrol Holdings' returns.