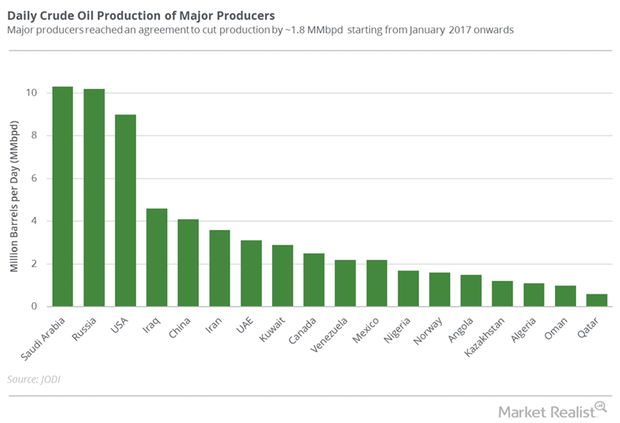 Will OPEC and Russia Announce Deeper Production Cuts?
Crude oil futures 
August US crude oil (RYE) (VDE) (UCO) futures contracts rose 0.2% and were trading at $46.6 per barrel in electronic trade at 1:45 AM EST on July 17, 2017. US crude oil prices are at a ten-day high. Prices rose due to improving global crude oil demand. For more on crude oil price drivers, read the previous part of this series. Volatility in crude oil prices impacts oil and gas exploration and production companies like Chevron (CVX), Warren Resources (WRES), and Denbury Resources (DNR).
Article continues below advertisement
OPEC and non-OPEC meeting 
The OPEC and non-OPEC monitoring committee meeting will be held on July 24, 2017, in Russia. The meeting will discuss production cut deal compliance. Nigeria and Libya have been invited to the meeting. Nigeria and Libya's crude oil production has risen on an average by 300,000–500,000 bpd (barrels per day) since January 2017—the beginning of the production cut deal. Nigeria and Libya were exempt from the deal due to political and economic instability.
OPEC and Russia's production
OPEC's crude oil production hit a 2017 high in June 2017. Likewise, OPEC's crude oil exports rose by 450,000 bpd to 25.92 MMbpd in June 2017. Russia's production was flat in June 2017. Saudi Arabia's production has risen in recent months.
Article continues below advertisement
OPEC and non-OPEC meeting outcome 
Kuwait's OPEC governor thinks that it will be too early to cut or cap Nigeria or Libya's crude oil production. He also questions whether these countries will be able to sustain their production. Some traders think that Nigeria or Libya might cap production by November 2017. OPEC's next meeting is scheduled in November 2017.
Impact 
Any cap in production for Nigeria and Libya would support oil prices. Higher compliance or a deeper production cut would also support oil prices. A deeper production cut might benefit US shale oil producers.
In the next part, we'll discuss some crude oil price forecasts.