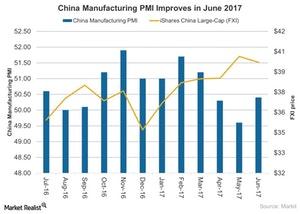 Will China's Rebound in Manufacturing Activity Continue in 2017?
Manufacturing activity in China
Manufacturing activity in China (FXI) expanded in June 2017 compared to its fall in May. Chinese manufacturing activity is showing a mixed outlook for economic growth in 2017.
China's manufacturing sector rose marginally to 50.4 in June 2017, compared to 49.6 in the previous month, according to the July 2017 Markit Report. The manufacturing PMI (purchasing managers' index) in June 2017 recovered and moved into positive territory, with businesses registering a slightly stronger rise in output and new orders.
Article continues below advertisement
Improved business conditions in China
The operating conditions in China have improved over the last 12 months, with the only exclusion being May 2017. The manufacturing PMI's being above 50 suggests expansion, while its being below 50 indicates contraction. Improved manufacturing activity in June 2017 resulted from a marginal rise in new work orders over the last three months. New work from international markets also rose slightly in June 2017.
Employment and purchasing activity
Job cuts in the manufacturing sector continued in June 2017, but at a slower pace due to cost-cutting initiatives and increased productivity. Purchasing activity rose slightly in June 2017 compared to May. Pricing pressures remained low in June as both input and output prices increased slightly compared to May.
China's temporary rebound in June
Manufacturing activity rebounded in June 2017 based on inventory trends and the expectation of future output. June's manufacturing PMI seems to have shown only a temporary recovery. The economic downtrend is to be confirmed later, according to the July 2017 IHS Markit Report. The Chinese government's efforts to curtail credit growth are expected to hamper the country's economic activity in 2017.
Economic uncertainty in China is likely to affect global markets (ACWI) (VT) because China is a global manufacturing hub (CAT) (CSCO). China is also a major trading partner for most economies across the world. Weaker demand and supply conditions in China are expected to impact its trading partners (SPY) (VGK).
Let's look at the Chinese service sector's activity in the next article.