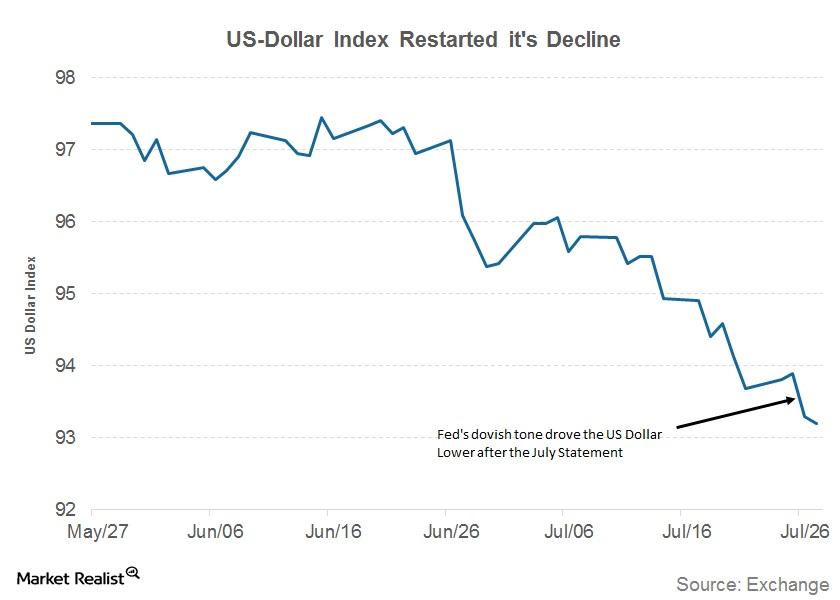 Why the US Dollar Took a Hit after the FOMC's July Statement
Dovish Stance from Fed crashed US dollar
Most of the statement released by the Federal Open Market Committee (or FOMC) following its two-day monetary policy meeting was in line with the market's expectations. Interest rates were left unchanged, and balance sheet trimming was set to begin on schedule—possibly as early as September.
However, the trouble was with the Fed's inflation outlook. The FOMC's statement indicated that the committee's members felt it would take longer than expected for inflation (VTIP) to reach its 2% target, meaning that the Fed could hold off on raising interest rates further. This view resulted in the US dollar's being sold off after the statement was released.
Article continues below advertisement
Article continues below advertisement
Why was the US dollar sold?
In a tightening monetary environment, a country's currency tends to appreciate. After the US election, the prospect of monetary policy tightening and fiscal spending drove the US dollar higher. The US was the only major economy on a tightening path before January 2017.
Lately, however, Europe (VGK) and the United Kingdom have signaled minor tightening measures, which have led to weakness in the US dollar (USDU). Yesterday's turn of events added further negative pressure on the US dollar (UUP).
What's ahead for the dollar?
Currency markets tend to overplay positive or negative news, but eventually, they give up some of these extreme movements. Currency traders have driven the euro (FXE) to a two-year high, above the 1.18 mark, and the British pound (FXB) to above 1.31. There could be a minor pause in the dollar's weakness as the FOMC statement news sinks in, but further losses are expected, especially against the euro.