Why the British Pound Failed to Stay above 1.30
Investors not confident the Bank of England will raise rates The British pound (FXB) has had a roller coaster ride over the last few weeks, as mixed signals were given by the Bank of England. After a hawkish tone at its June meeting, the Bank of England has turned dovish in recent weeks. The British pound […]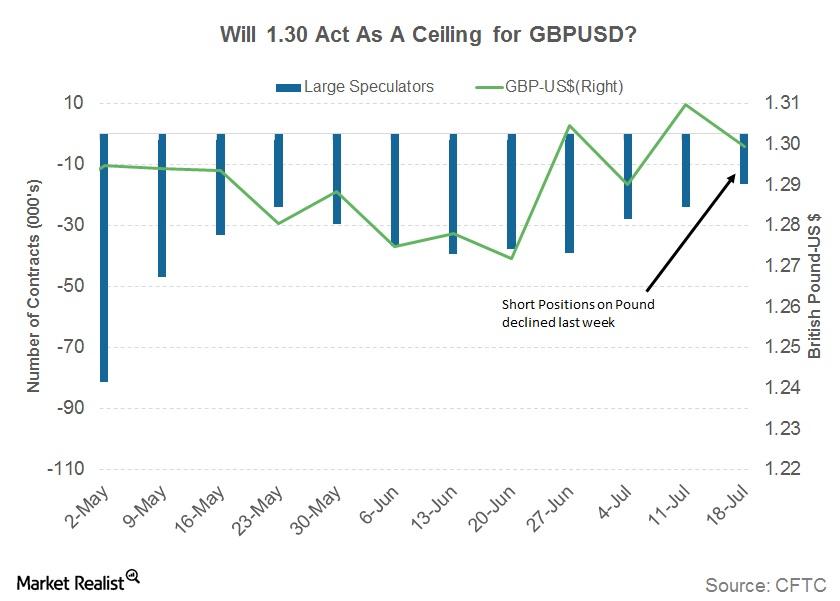 Investors not confident the Bank of England will raise rates
The British pound (FXB) has had a roller coaster ride over the last few weeks, as mixed signals were given by the Bank of England. After a hawkish tone at its June meeting, the Bank of England has turned dovish in recent weeks. The British pound (GBB) depreciated by 0.77% against the US dollar (UUP) last week to close at 1.30. Economic data from Britain was mixed. Inflation, which has shot up in recent months, fell to 2.6% in June, against a market expectation of 2.9%. Retail sales, on the other hand, were above market expectations, with 0.6% growth.
British equity markets (BWX), especially the FTSE 100, remained positive last week, reflecting a weaker pound—most of the index's companies generate revenue from exports. A weaker pound makes these companies competitive.
Article continues below advertisement
Article continues below advertisement
Speculators continued to reduce short positions
According to the CFTC's (US Commodity Futures Trading Commission) latest Commitments of Traders report, pound speculators added 7,665 long positions, taking net short positions to 16,473. This data was as of July 18, and will have changed after the pound's reaction to retail sales data. With the reduced chance of a rate hike from the Bank of England, we can expect short positions to build up against the British pound.
The week for the British pound
Next week could be a quiet one for the pound. Second-quarter GDP data is to be released, and is expected to be positive. It remains unlikely that the pound will rally above 1.30 again, with the change in traders' views on the interest rate. Unless the Fed springs a negative surprise on the US dollar (USDU), we can expect the British pound to continue its journey lower.