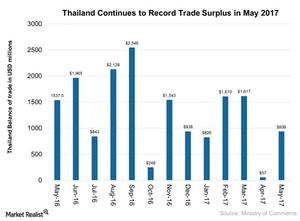 Why Thailand's Trade Surplus Rose in June 2017
Thailand trade balance in 2017
Thailand's trade balance continues to expand due to improvement in external demand and tourism in May 2017. Imports also continue to improve with the gradual rise in domestic demand in 2017. Thailand's trade surplus rose to $936.5 million in May 2017 as compared to $57 million in the previous month.
Let's look at the trade surplus in Thailand over the last year in the below chart.
Article continues below advertisement
Trade surplus in May 2017
Despite the month-over-month increase, Thailand's trade surplus in May 2017 stood below market expectations of $1,160 million on a year-over-year basis. The trade surplus fell in May 2017 year-over-year as compared to a surplus of $1,537.5 recorded in the same period the previous year.
The exports stood at $19.9 billion, a 13.2% year-over-year and 18% month-over-month increase from April 2017. Imports also rose at a faster rate of 18.2% year-over-year and 13% month-over-month from April 2017.
Government efforts
Public investment has been a key driver in improving economic activity in Thailand over the last few quarters. The government's infrastructure (IGF) plans are expected to provide a big boost to trade in Thailand in the coming years.
Recently, the Bank of Thailand intervened in currency market operations in July 2017, thereby preventing the strengthening of Thailand's currency, the baht. The baht has been on the rise since last year on account of rising current account surplus and low inflation. The baht has appreciated by about 5% in 2017 as of July 2017 against the US (USDU) dollar, making it the top-performing currency in Asia (ASEA). However, the rising baht has affected the growing exports of Thailand and thereby resulted in official intervention.
Expectations
The improved global (ACWI) growth outlook is expected to support global trade and thus the export-dependent economies in 2017. The Bank of Thailand has raised the export growth forecast to 5% from 2.2% for 2017. However, the global protectionist policies specifically from the US (SPY) (QQQ) are likely to impact the trade growth in Thailand.
Let's look at consumer confidence in Thailand in our next article.