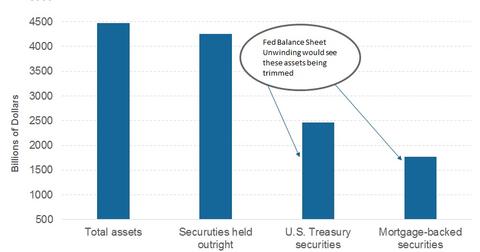 Why FOMC Members Were Divided about Balance Sheet Shrinking
By Ricky Cove

Updated
Minutes indicated members were divided
The FOMC June meeting minutes that were released on July 5, 2017, indicated that the FOMC members were divided over when to begin shrinking the Fed's bloated balance sheet. Since the onset of the financial crisis in 2008, the Federal Reserve through its quantitative easing program started purchasing huge quantities of fixed income securities (BND) to help stabilize the US financial system (XLF).
Article continues below advertisement
No clear insight from the minutes
The FOMC June meeting minutes offered no clear insight about the timing of the balance sheet shrinking. Given the fact that the committee has detailed plans about how to shrink the balance sheet, the process of trimming the balance sheet could begin soon. The Fed's balance sheet is currently bloated to $4.5 trillion from an average level of $2.5 trillion before quantitative easing started. The securities that make up the Fed's balance sheet include $2.4 trillion of US Treasuries (GOVT) and $1.7 trillion of mortgage-backed securities (MBB). The remaining portion comes from federal agency debt securities and overnight securities (MINT). The balance sheet shrinking process is likely to have a negative impact on the bond market, as one of the largest holders will begin to sell its holdings.
Impact from balance sheet shrinking
As per the meeting minutes, the Fed members felt that a well-telegraphed and a gradual approach to trimming the balance sheet will have a limited impact on financial markets. This exercise could also pause the Fed's interest rate hikes, which could give US economic data some time to recover. Overall, the Fed minutes didn't offer any new insights and markets believe that the Fed will continue to scale back from its accommodative policy.