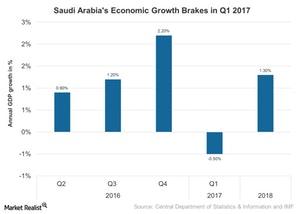 Why Did the Saudi Arabian Economy Contract in 1Q17?
By Mary Sadler

Updated
Oil-based economies
The oil-rich (USO) (UCO) economy of Saudi Arabia (KSA) saw its growth contract in 1Q17, primarily due to its capped oil production agreement with OPEC (Organization of the Petroleum Exporting Countries), which was meant to balance supply-demand dynamics on the global (ACWI) market. Saudi Arabia's GDP fell 0.5% YoY (year-over-year) in 1Q17, compared with its 2.1% growth in the previous quarter.
Article continues below advertisement
Saudi Arabia's 1Q17 performance
In 1Q17, Saudi Arabia recorded its first contraction since 2009, as reduced oil output dragged down the following activities:
Mining and quarrying fell 2.3% in 1Q17, compared with 3.8% in 4Q16.
Growth in electricity, gas, and water fell 1.6% from its growth of 5.8% in 4Q16.
Construction activity fell 3.2% from the previous quarter.
Manufacturing activity saw a slower growth of 2.3%, compared with 3.1% in 4Q16.
Transport grew only 1%, compared with 4.4% in 4Q16.
Services sectors including finance, insurance, and real estate rose slightly at 1.1%, compared with 3.8% in 4Q16.
By contrast, total output rose for Saudi Arabia's wholesale and retail trade at 0.3%, compared with a decline of 2% in 4Q16.
Saudi Arabia's oil reliance
Saudi Arabia held about 18% of the world's proven petroleum reserves in 2016, and it's the largest exporter of petroleum globally. The reduced production agreement by OPEC members thus impacted the economic output in Saudi Arabia in 1Q17 and is likely to continue through 1Q18. Saudi Arabia's crude oil production dropped in 1Q17 by ~7%, reaching only 29,659 barrels per day, compared with 31,810 barrels per day 4Q16.
Meanwhile, the rise of shale production (XLE) (PXI) in the US (SPY) and the lack of trust among GCC (Gulf Cooperation Council) nations to limit production are expected to affect oil (USO) (UCO) prices and revenues for Middle East economies (GULF) in 2017.
Diversification
The Saudi Arabian government has begun to make significant reforms to move away from its reliance on oil, but its non-oil sector has continued to grow at slower pace in 2017. Recently, the non-oil private sector PMI (purchasing managers' index) in Saudi Arabia dropped to an eight-month low of 54.3 in June 2017.
Now let's take a look at the United Arab Emirates.