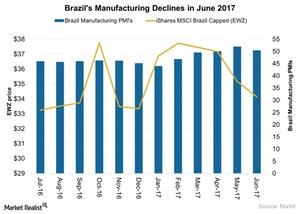 Why Brazil's Manufacturing Activity Lost Momentum in June 2017
Brazil's political crisis
Brazil's (EWZ) manufacturing activity took a hit in June 2017, as it was distracted by its political scandals. Brazil's interim President Michel Temer was implicated in several corruption charges in June 2017. Also, the public revolt against Temer's austerity measures seems to be affecting the confidence level in the country.
The manufacturing PMI in Brazil (BRZU) fell to 50.5 in June 2017 compared to 52.0 in May 2017. However, the manufacturing PMI level standing above 50 in June indicates the third consecutive month of expansion in the sector. The chart below illustrates Brazil's manufacturing PMI over the last year.
Article continues below advertisement
Business conditions in Brazil
The operating conditions in Brazil's (EEM) manufacturing sector continued to improve in June 2017, mostly due to the sustained growth of new orders and increased output. However, the rates of expansion for both metrics remained soft in June 2017 compared to the previous month's high.
The political issues and competition seem to have affected the country's overall business growth amid improving demand conditions in June 2017.
Purchasing activity and employment
Purchasing activity and employment both declined in June 2017, mostly due to cost-cutting measures. The price pressures in Brazil's manufacturing sector remained high in June 2017. The input costs showed a sharp rise in comparison to output prices due to reduced pricing power and excess supply.
The weak Brazilian real, compared to the US dollar, maintained its upward pressure on the cost of inputs in June 2017.
Investment impact
Brazilian (ILF) manufacturers remain firmly optimistic about the country's output growth in the next 12 months. The new product launches and export opportunities supported the confidence levels in the manufacturing sector in June 2017.
Investors need to closely watch the ongoing political developments in Brazil (VWO), as they can impact investments in Brazil throughout 2017. Crucial economic reforms are expected to be delayed due to Temer's alleged involvement in a corruption scandal. The iShares MSCI Brazil Capped ETF (EWZ), which tracks Brazilian equities, fell ~3% in June 2017.
Let's look at Indonesia's manufacturing activity in June 2017 in our next article.