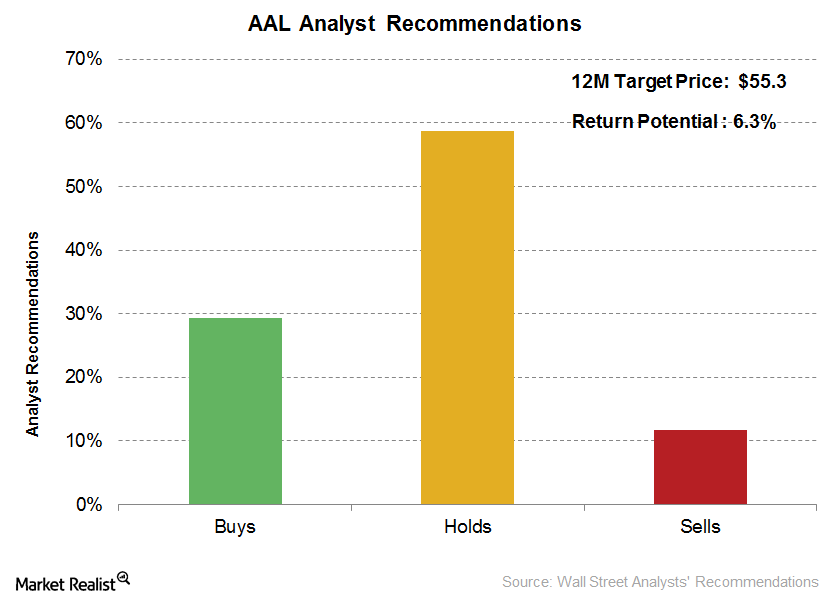 Wall Street Analysts' Recommendations for American Airlines
Analysts' views
According to Reuters, of the 17 analysts tracking American Airlines (AAL), 23.5% (or four) have "strong buy" ratings on the stock, 5.9% (or one) have "buy" ratings, and 58.8% (or ten) have "hold" ratings.
American Airlines is one of the two airlines with "sell" ratings. It has a "sell" rating from 11.8% of analysts tracking its stock. The other airline with a "sell" is JetBlue Airways (JBLU).
Article continues below advertisement
Upgrades and downgrades
Two important upgrades for AAL have come from Soros Fund and Berkshire Hathaway (BRK-B), both of which have increased their stakes in the stock. Soros Fund increased its stake to 0.12 million shares, and Berkshire Hathaway increased its stake by 8.2% to 49.3 million shares. Institutional investors' rising stakes increase retail investors' confidence.
In early May 2017, Cowen and Company raised its target price for AAL from $46 to $48 and maintained its "market perform" rating on the stock. Bernstein also raised its target price from $44 to $49. At the end of April, Barclays lowered its target price on AAL from $62 to $58. Imperial Capital also lowered its target price on the stock from $46 to $43.
Target price
As a result of analysts' upgrades, American Airlines' consensus target price has risen. Presently, American Airlines' 12-month target price is $55.31, compared to its level of $53.5 following its 1Q17 earnings results. The stock's current target price indicates a 6.3% return potential as of its July 7, 2017, closing price of $52.8. The airline has a high target price of $95 and a low target price of $42.
Series overview
AAL is expected to announce its 2Q17 earnings for 2017 on July 20, 2017. In the next few articles, we'll discuss analysts' estimates for American Airlines' second quarter. We'll look at its key indicators, and we'll try to understand what may be priced into its stock.
Investors can gain exposure to American Airlines by investing in the First Trust NASDAQ-100 Ex-Technology Sector Index ETF (QQXT), which invests 1.7% of its portfolio in AAL.
You can also check out analysts' estimates for Delta Air Lines (DAL), United Continental (UAL), and Alaska Air Group (ALK).